10 Best Apps for Apple Watch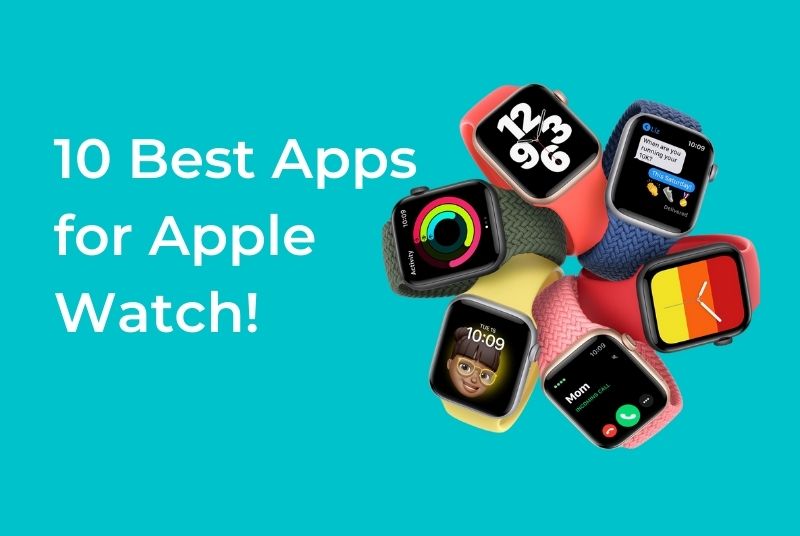 The Apple Watch - a small powerhouse on your wrist. At the moment you can go over to the Apple website and get your hands on an Apple Watch Series 6, an SE, or a Series 3. Apple describes it as "the ultimate device for a healthy life". So what makes an Apple Watch such an amazing smartwatch?

If I were to gander a guess, I'd say it's a combination of a few things. Almost like the different ingredients you have in a recipe that comes together to make a delicious dish. And one of the ingredients that make the Apple Watch such an amazing device are the apps.

I'm not exactly talking about the native apps like the compass or the heart rate monitor app that come pre-installed on the Apple Watch. The third-party apps that you can find on the Apple App Store. There are thousands of useful apps that you can install and use on your Apple Watch, which include games, fitness trackers, utility apps, etc.

Some apps even allow complications on your Apple Watch face. For those who aren't familiar with the Apple Watch, a complication is a small icon used to display information or give access to an app that is on your watch face.

If you didn't know, the term "complications" has its heritage in traditional mechanical watchmaking. Traditional watchmakers used this term to refer to any additional information that is displayed on a mechanical watch beyond the time. For example, a mechanical watch with a window for a date. They are called complications because they complicate the watch and the watchmaking process.

There you go, a small history lesson. Now let's jump over to the meat of this article - Apple Watch apps. I wanted to share with you the 10 best apps for the Apple Watch that you should have.
10. Shazam
Ever had that lingering feeling when you hear a song but can't really recall the name of the song. Yes, that happens to me a lot. Shazam to the rescue - sort of like the DC hero. It has the ability to identify a song by listening to it. Not only that it will keep a library of previously listened to tracks so you can quickly look up that one song you can't get out of your head - yes the one you heard while you were having a coffee, that one!

Once Shazam identifies a song you can click on it and it will take you to your Apple Music. Just a side note here, Apple bought Shazam a while ago. Shazam also has a complication so you can use it to quickly listen to a song without having to yell at Siri asking for the song.
9. Brushout
Brushout is a free app that is very similar to the new handwashing feature in the new Apple Watch where it automatically starts a timer when the watch senses you are washing your hands. I think this became a very useful feature especially during the present day, where washing your hands properly could literally save your or your loved one's lives.

Brushout uses a complication to help you start a timer for 30 seconds. It gives you haptic feedback on your wrist when the timer is up every 30 seconds so you can switch and brush a different location in your mouth. You have the ability to exit out of the app and let the complication keep updating on the time. When you finish it will give you a lovely checkmark and not only that it will actually send this information over to the health app as well.

As for control of the app, you can change the duration it keeps track of your sprees - that's about it. It's a simple quirky little app that fits perfectly within the Apple statement, "the ultimate device for a healthy life".
8. Carrot Weather
Another cool app to have on your Apple Watch is called Carrot. It is basically a weather app that will show you all the crucial information on a really clean layout. You can add locations and adjust the settings directly off the watch. You can make it speak out loud if you like to and you can scroll through the time to see what the weather will be like during the day.

You can click on the date to get more information on the weather for that day. I recommend this app because it has a clean layout as mentioned above - almost looks factory Apple - and has slightly more details than your typical weather app like the wind speed and cloud coverage.

It also has a clean complication that can display the current temperature right on your watch face. So if you are like me - curious about the weather - then this is a great app to have on your Apple Watch.
7. Outcast For Watch
Pure app for podcast lovers like myself. Outcast actually gives you a lot of useful tools that you don't expect to find on an Apple Watch. A fine example is that you can not change the colour of the app - let's say the match your new Apple Watch strap - but also can increase the speed of a podcast to listen to it faster. The app has Siri controls and you can request Siri to play your favourite podcast or continue the one you were listening to last.

This app also allows you to download a podcast directly onto your Apple Watch. So you don't have to be attached to an iPhone or have an internet connection to listen to your podcasts on the go. I typically take advantage of this feature during my commute to work and back or when I'm out on a jog.
6. Pacer Pedometer
Pacer Pedometer is another one of my favourite apps. It's a very simple step counter. Why I'd use it instead of the activity rings? The simple answer is that this app has a complication that will display my daily step count right on the Watch face. That's really about it!
5. ETA - Live Traffic Alert
Another great app for commuters - ETA, a dedicated complication for the Apple Watch. When you tap on it, it will tell you the current traffic conditions from your location to other saved locations on your app. You can quickly check at a glance how long it will take you to get to work or how long you would have if you leave for lunch.

You can click on each saved location and see a little forecast of the traffic conditions for the next 2 hours as well. It will indicate normal traffic in green, moderate traffic in yellow and heavy traffic in red. But the best part is the estimated time of your commute. Finally, you can click the direction at the bottom to open the map app.

Simple app for commuters. Never be late for work or your date again!
4. Cloud Battery
Personally, I think that Cloud Battery is much better than what Apple has in their complication to monitor the battery life level of your Apple Watch. Simply because this app can not only monitor the battery level of your Apple Watch but also can monitor the battery life of all your other Apple devices that has this free app installed.

In my Apple Watch, I've set the complication to monitor the battery life of my iPhone. As for my Apple Watch's battery, I could simply bring up the control centres to see the battery percentage. So there's no real need to display that with the complication. I can click on the complication on my watch face and monitor the battery life of my other Apple devices.

You can set which device to display with the complication in the settings and it will send push notifications when one of your devices are going to run out of battery. This app is free to download and I love it because right from my Apple Watch I can monitor the battery life of my iPad and iPhone.
3. Camera Remote
This is a native app on your Apple Watch that is very useful. I love using this app because it allows me to easily use the rear main cameras on my iPhone to capture pictures or record a video.

By launching the app on your watch it will automatically open the camera application on your iPhone. The crown can be used to switch between the different lenses - depending on the iPhone model - and gives you the ability to use your Apple Watch as a viewfinder.

You can set a timer and access other settings via the watch app. The one downside to this app is that you cannot switch between photo and video modes using your watch. You will have to grab your phone to do that. Even so, it is an extremely useful app, especially for selfie lovers.
2. Voice Memos
Another great native app on the Apple Watch - with the recent update. Before I used to rely on third-party apps to record voice notes. But now I can directly record voice notes on the Apple Watch with this app and have it automatically synchronized on my iPhone.

This is a great app to take voice notes on the go and the microphone on the Apple Watch isn't too bad for the job either.
1. Heart Analyzer
If you are a fitness junkie like myself, I highly recommend downloading the Heart Analyzer. This is a very useful complication, especially if you work out a lot. It allows me to monitor my heart rate with the complication right on the watch face. You can click on the complication to get additional information like your calorie burn, heart rate at rest, highest of the day and also the blood oxygen level - if you are using an Apple Watch Series 6.

So there you have it. Top 10 apps for the Apple Watch. If I missed any do leave a comment below and as always thank you for reading!
Author | Nuwan Fonseka
---