Aluminium, Stainless Steel and Titanium. What are the benefits and differences between the watches?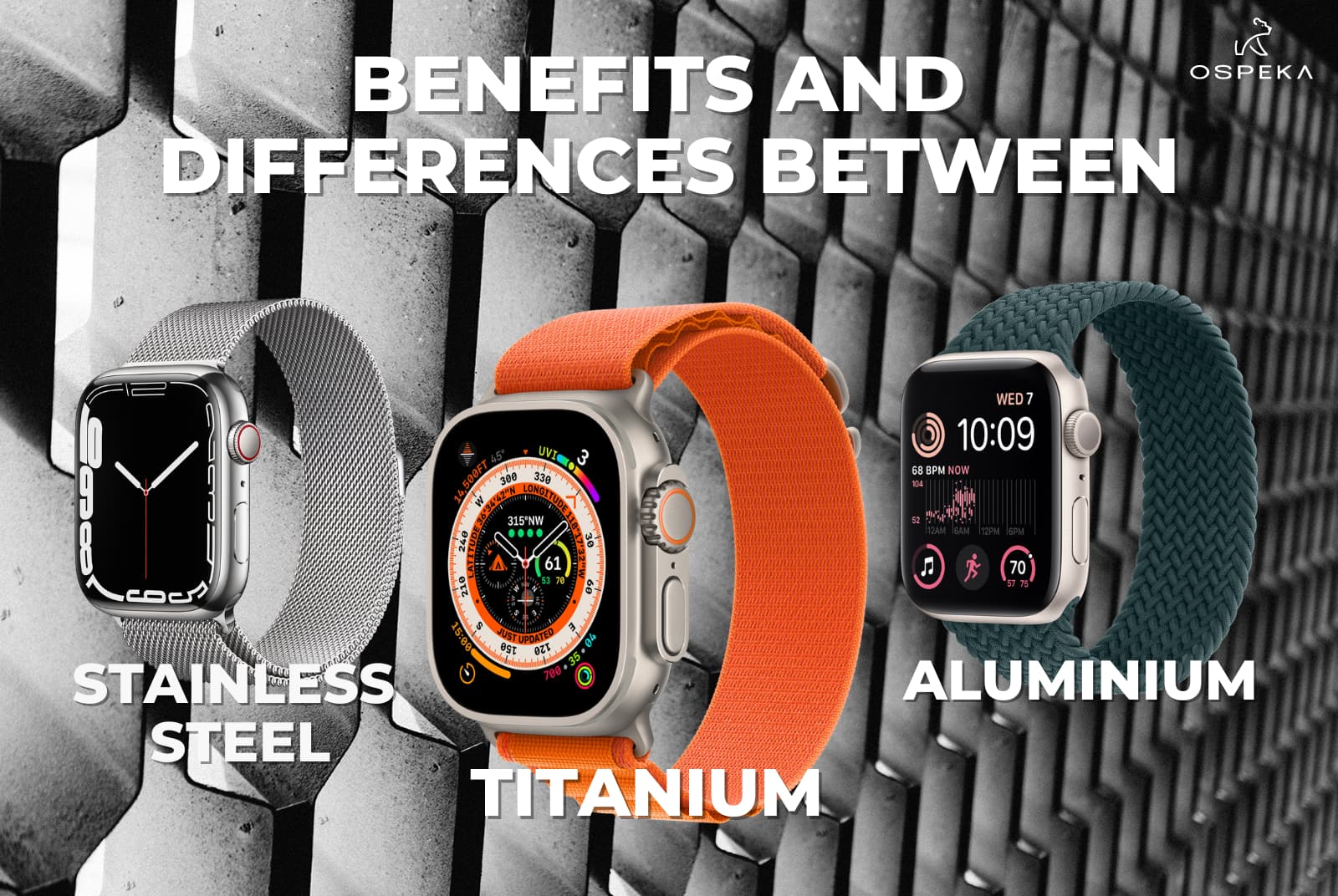 Apple released three smartwatches during its September 2022 event: the Apple Watch Ultra, Apple Watch Series 8 and Apple Watch SE. They come in different price points and are made of three distinct materials: Aluminium, Stainless Steel and Titanium. But what are the main benefits and differences between the materials, and which one should you pick? Let's find out in this in-depth article. 
Should you buy an Apple Watch Aluminium case?
Aluminium-built Apple watches are the most common and are usually the most inexpensive. You can currently buy the Apple watch SE and Apple Watch Series 8, both of which are primarily built from Aluminium. However, the most significant advantage of the Aluminium case is its weight. Aluminium-built watches are usually lighter when compared to their Stainless Steel and Titanium counterparts. So if you do not want a heavy Watch, Aluminium should be the perfect material for you. 
Aluminium is also less expensive than other materials. This helps manufacturers to keep the price down. Apple's budget options, like Apple Watch SE and Apple Watch SE (2022), come exclusively in  Aluminium chassis. 
Unfortunately, if you want to pick the Watch Ultra, Apple does not currently offer any Aluminium body option, so you will be out of luck finding one. However, the biggest downside of Aluminium chassis is that it is susceptible to scratches and tends to attract fingerprints easily. 
Should you buy an Apple Watch Stainless Steel case?
Stainless Steel is often considered a premium material choice and often costs more than its Aluminium counterpart. Stainless Steel is also stronger than Aluminium and has a certain heft to it that most users will prefer. However, Stainless Steel scratches more easily. And thanks to the polished shine, it also shows those micro-abrasions easier when compared with Aluminium or Titanium chassis. 
However, if you do want to use the Stainless Steel Apple watch, your options are pretty limited, as only the Apple Watch Series 8 currently offers a Stainless Steel variant. All other Apple watches, including Apple Watch SE and Watch Ultra, exclusively offer Aluminium or the more premium Titanium option. 
Should you buy an Apple Watch Titanium case?
Titanium is by far the most premium, and expensive material choice for Apple watch models. Titanium is the hardest and significantly less susceptible to scratches. It also does not attract fingerprints, making it a solid option for most people. 
Currently, only the Apple watch Ultra offers a Titanium option, and according to early reviews, the Titanium chassis is strong enough to take some heavy pounding. If you want the most premium material and do not mind paying a premium, the Titanium case would be the best for you. 
Aluminium vs Stainless Steel vs Titanium: Which is the best material for Apple watch?
Now that we have a basic overview of each of the materials, let's cut to the chase on which one is the best material for your everyday carrier. 
In our opinion, Titanium offers significantly better quality and can easily withstand the wear and tear of day-to-day usage. It is also less susceptible to scratches and should last longer when compared with other materials. 
But Titanium is more expensive and may not fit everyone's budget. If that is the case, we would suggest the less expensive Aluminium as it is light and comfortable to carry around. It also does not collect as many fingerprints as some of the other materials. Aluminium is also very common, and except for the new Watch Ultra, you will find an Aluminium option for all Apple Watch models. 
However, it is important to note that we are not the biggest fan of the Stainless Steel model, mainly because the price difference between Stainless Steel and Titanium is not that big. So, instead of using Stainless Steel, we highly recommend you add some cash and go with Titanium, as it offers an overall better quality. 
If you want to learn more about the unique properties each of these materials provide, check out our article here. 
Final words 
Choosing the right material is very important as it will determine your overall experience with your Apple watch. The right material can also help customize your watch to give it a unique look. You may also consider changing the watch strap to the one that perfectly suits your eye. Do not forget to check ospekastraps for high-quality watch straps at an affordable price. 
So, now that we have shared our opinions between Aluminium, Stainless Steel and Titanium, which material is your favourite? Let us know in the comment section below. 
---