Apple Watch Ultra: A Complete Review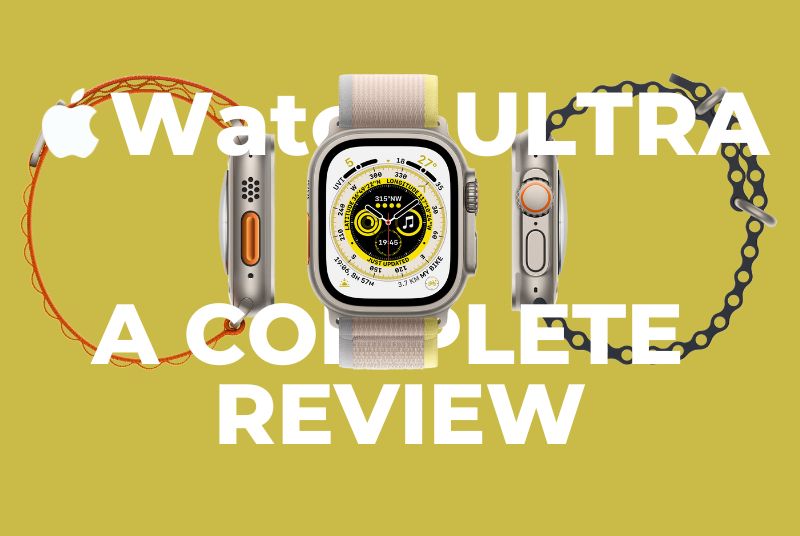 After a year of leaks and rumors, Apple finally unveiled the Apple Watch Ultra, which is a rugged, more premium version of Apple's latest smartwatch. Apple Watch Ultra is released alongside the Series 8 and packs a larger display, a better battery life, a redesigned digital crown, a new action button, and a unique range of watch bands.
Apple mentioned in its September event that the Apple Watch Ultra is specifically targeted toward people who love to explore and often find themselves in harsh outdoor conditions where most watches won't even survive.  
So, whether you're a hiker, a mountain climber, or just a tech enthusiast excited about a bigger and better Apple Watch, here is your complete Apple Watch Ultra review to help you decide.
Apple Watch Ultra: Name 
If you have been following the leaks and rumors leading to Apple's Far Out Event, you may be a bit confused about the naming convention Apple went with. We heard plenty of possible names for Apple's new rugged and sports-focused Apple Watch, including names like Apple Watch pro or Apple watch series 8 pro, but they were all wrong! Apple Watch Ultra is the device's official name, and that is what we will be calling it today. 
Apple Watch Ultra: Design 
Apple Watch Ultra gets a complete redesign and is built from aerospace-grade titanium to provide a ton of durability while keeping the Apple Watch Ultra as light as possible. The Apple Watch ultra is also a bit bigger in size, coming in at 49 mm. However, Apple explicitly mentioned that the watch will still be backward compatible with previous 44 or 45mm Apple watch straps. 
The display also got a bit of an upgrade which is now made out of flat sapphire crystal to help it against accidental falls and extreme temperatures. The display is also much brighter and can shine at 2000 nits of peak brightness. 
The new Action button: The biggest physical difference in the new watch must be the inclusion of a physical, multi-purpose action button situated on the opposite side of the digital crown. The action button is customizable and can offer one-touch access to an array of different features. You can use the button to start a specific workout you are training for, or you can use it to bring up a map to find your way easily. It will be interesting to see how the WatchOS 9 will adapt to incorporate the new action button on the Apple Watch Ultra. 
Updated speaker: The speakers in previous Apple watch models were mediocre at best. However, Apple introduced a larger, more powerful speaker in Apple watch Ultra, making it easy to listen to voice calls and is capable of producing 86-decibel siren noise to help you during emergencies. 
Withstand extreme conditions: Being the most rugged Apple Watch, the Apple Watch Ultra is made to withstand extreme conditions, which most other watches simply can not. According to Apple, the Watch Ultra can withstand temperatures ranging from -20° C to 55° C. You can also use the watch underwater for up to 40m which should be enough for most recreational scuba divers. 
Apple Watch Ultra: Features
With the new Apple Watch Ultra, Apple introduced some exciting features, most of which are explicitly targeted toward athletes and pro users. 
Apple Watch Ultra as a dive computer: Apple introduced a new Depth app, which will detect when you are submerged and automatically launch the app. The app will display the time, current depth, water temperature, and other useful underwater information to help you keep track of your diving sessions. 
A new compass app: The built-in compass app gets a considerable upgrade enabling you to add waypoints. This will allow you to mark locations quickly, and the Waypoint complications will update in real-time to display your direction and distance, helping you find the way. 
New night mode: We mentioned how the Apple Watch Ultra gets an updated display with 2000 nits of brightness. On the other side of the spectrum, Apple added a new Night mode that uses less battery life while making it easier to see in the dark. 
Apple Watch Ultra does everything a Series 8 can do: The above features are only available on the new Apple Watch Ultra. But it is important not to forget that the Apple Watch Ultra can also do everything the regular Apple Watch Series 8 can do. So the usual Apple Watch features like car crash detection, a temperature sensor for improving women's health, always-on display, Blood Oxygen, and ECG apps all exist in the Apple Watch Ultra as well. You can check our Apple Watch Series 8 review to learn more. 
Apple Watch Ultra: Battery life
The new Apple Watch Ultra has significantly better battery life compared to its predecessors lasting up to 36 hours of normal usage. This is twice what you would get in an Apple Watch series 7 or even from series 8. 
On top of that, Apple Watch Ultra also introduces a new battery-saving feature that should turn off a few core features like automatic workout detection to give you even better battery life. According to Apple, the new watch Ultra should last 60 hours when using the new power-saving mode. 
Overall, you can expect a solid 3-day battery life when using the normal mode and up to a week when using the battery-saving features. 
Apple Watch Ultra: cost & availability
The Apple Watch Ultra costs £849 in the UK ($799), which is on par with its main rivals, Garmin, Polar, and Cortex watch. The Ultra is currently up for pre-order, but it won't be delivered until September 23. This indicates that the Apple Watch Ultra is already delayed, given that the Apple Watch 8 and the new Apple Watch SE 2 will be available starting September 16.
Final words: Should you upgrade to Apple Watch Ultra 
Apple Watch Ultra is a solid upgrade and offers many premium features that you won't get in any other mainstream smartwatch. However, it cost almost twice that of the regular Apple watch series 8, which makes it a hard sell. So, if you are in the market for the most premium watch, that can handle any extreme climate, get the Apple Watch Ultra. But if you hardly get out of your house and use the Apple watch as more of a fashion statement, the series 8 or SE 2 will serve you best. 
Will you be upgrading to the new Apple Watch Ultra? Let us know in the comments below. 
---