Aluminium vs Stainless Steel vs Titanium Apple Watch: Which Apple Watch Should You Buy?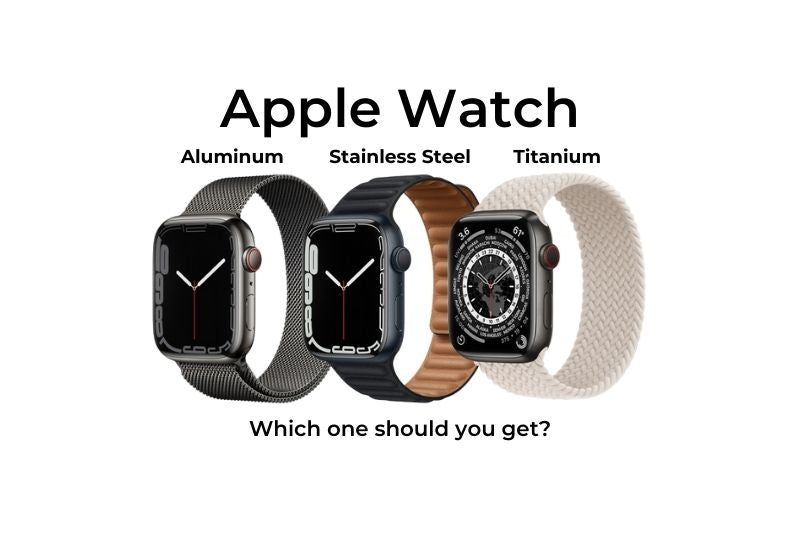 The Apple Watch is currently available in three different materials: aluminium, stainless steel, and titanium. While aluminium and stainless steel were always a staple in Apple's lineup, the titanium version only makes guest appearances from time to time.
The three versions come at three different price points and have their own perks. Now, which one you choose is extremely important as it will greatly define the overall experience you have with the watch, so without further adieu, let's find the version that best suits your needs.
Availability
Apple is currently selling three watch series: the Apple Watch Series 3, Apple Watch Series 7, and Apple Watch SE. Apple Watch Series 3 and Apple Watch SE are available in aluminium. However, the Apple Watch Series 7 is available in all three materials. So you only get the choice of materials when deciding between the apple watch series 7. If you made up your mind in getting the Apple Watch series 3 or the SE, you only have the aluminium option.

Price

As previously discussed, the choice of materials comes at 3 distinct price points with the Stainless Steel and Titanium models quite a bit more expensive than the aluminium ones. In the UK, you can pick an Apple Watch Series 7 aluminium model for around £369, while getting the Stainless steel model will cost you £230 more at £599. For the exclusive, Titanium model, you have to shell out a further £100, taking the total cost to around £600. This is some serious money, so if you are looking for a budget option, aluminium is your best bet. 
Durability and Strength
Compared to stainless steel and titanium, aluminium is a bit more susceptible to cracks, as it is a softer material. However, this isn't a major concern because shattering an aluminium case on contact is still pretty hard.
Aluminium has an edge when it comes to the appearance of minor scratches and micro-abrasions. Although the metal casing is not scratch-resistant, it has a sleek, matte appearance that hides minor scuffs on the watch. So if you hate the micro-scratches which are visible upon minor inspection, you may consider the aluminium model.
Titanium is the hardest of them all, it does not break or shatter when struck. This increases its durability, making it ideal for use in sports and other types of vigorous activities. But its glossy appearance makes all the scratches and fingerprints visible on close inspection which can take away the aesthetics of the Apple Watch.
So, if you want the most durable material and do not mind the occasional scratch marks or fingerprint strains, go with the titanium. If you can not stand the idea of an Apple watch with minor scratches and fingerprints, get the aluminium (its matt finish hides strains well). And if you want a bit of both worlds (fewer scratch marks and more durability) get the stainless steel one.
Weight
Stainless steel and Titanium have a similar density (with stainless steel being a tad heavier than titanium) Titanium version is also two-and-a-half times lighter than that of aluminium. When comparing the two Apple Watch Series 7, the stainless steel version weighs roughly 10 grams more than the aluminium version. 
So, if you don't want to carry a heavier watch or have a smaller wrist that makes carrying a heavier watch more difficult, get the aluminium one. But if you like the feel of the added heft the stainless steel and titanium watches provide, you will be better served with them.

Display Tech
The stainless steel and titanium Apple Watch comes with a sapphire crystal display. This is a robust and stiff material that provides excellent protection and scratch resistance for the display. Only diamond is harder than sapphire crystal making it one of the most desirable materials when it comes to luxury watches.  
The aluminium Apple Watch uses Ion-X strengthened glass, which is not as strong as sapphire crystal and is vulnerable to scratches and cracks.
Connectivity
The aluminium Apple Watch is available in both the GPS only and GPS and Cellular versions. While the more expensive Stainless Steel and Titanium apple watches come only with GPS and Cellular versions and do not offer an independent GPS-only variant. 
To learn more about the differences between GPS and Cellular Apple Watches, do check out our detailed review on them.
Style
When compared to the aluminium Apple Watch, the stainless steel and titanium version is the more luxurious alternatives. They have a glossy finish with a pleasing appearance. The stainless steel variant is ideal for those who prefer traditional watches or who want something visually pleasing. The titanium model looks elegant and when paid with the right straps looks a class on its own.
The metal Apple Watch, on the other hand, is no less attractive. If you prefer matte finishes over flashy ones, the aluminium Apple Watch is the way to go. 
Straps
The straps in all the models can be used interchangeably (for same size options). But Stainless Steel and titanium versions come with fancier more expensive watch straps that you won't find with the aluminium versions. 
But that is not that big of a deal as you can always pick an identical third-party strap that costs significantly less and serves the same purpose. (check out this Leather Link Strap, that one is our favourite)
Charging Puck
Another difference between the aluminium and the more expensive stainless steel and titanium is the charging puck. Apple ships a plastic Charging Puck with the aluminium one and is much thicker when compared to the metal Charging Puck attached to the stainless steel and titanium models.
Which Apple Watch Should You Buy?
It all comes down to personal preference as all the apple watches are built exceptionally well. The aluminium Apple Watch is ideal if you want a cheaper option, a wider range of colours, a matte surface with minimum scratching, and a lightweight Apple Watch. If you want to update to a newer model every year or two, this is also the most cost-effective alternative.
If you want a finer, more glossy Apple Watch with a traditional style, more durable material, a wider range of straps and greater weight, go for the stainless steel Apple Watch.
If you want the very best that Apple has to offer and do not mind spending a few extra hundred dollars, get the titanium one. They also tend to have the best resale value of all apple watches.
---
1 comment
---
---