Apple Watch Cellular vs. GPS: What's the difference?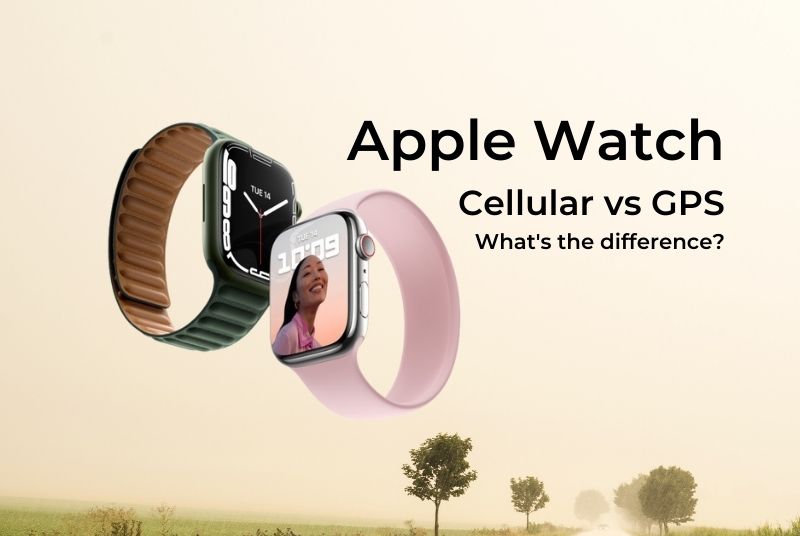 When considering an Apple Watch, you have two variants to choose from GPS and GPS + Cellular. At first sight, you wouldn't be able to tell the differences, but on close inspection, the only physical difference you will find is that the cellular version has a red ring around the Digital Crown. And that's about it, but it's what's inside that makes the difference.
The main difference between the two is that the cellular apple watch can be used as a standalone device. It can cling to a cellular network through an e-sim and does not require connecting to an iPhone. (You need to pay a premium, more on it later )
The GPS-only version, though, needs to be connected to an iPhone at all times through Bluetooth and wifi and can only access the internet through the iPhone.
What this means is that when using a cellular Apple Watch, you can leave your iPhone at home and go on a stroll with just your watch and still receive calls, messages, and notifications from other essential apps. You can not do the same when using a GPS-only version, as it needs to be connected to your iPhone.
Besides this, there are some other key differences between the two, so let's dive in to see which one is better for you. 
Apple Watch Cellular vs. GPS: Family Setup
Another benefit of the Cellular Apple Watch is the ability to set up an Apple Watch for a family member. Traditionally, setting up a new Apple Watch required it to be connected to an iPhone for the first time. But, with WatchOS 7, Apple made an exception to this rule and allowed Family Setup, a feature that allowed people without an iPhone to use the Apple Watch. This implies that your family members may go out without carrying an iPhone and still get calls and messages.

Family Setup works with all Apple Watch cellular version that is upgraded to WatchOS 7

Apple Watch Series 4,5,6,7 (Cellular Version Only)

Apple Watch SE ( Cellular Version Only)
So if you are in the market for a new apple watch but currently do not have an iPhone, Apple Watch Cellular version is the way to go.
Apple Watch Cellular vs. GPS: Battery Life

Battery Life is an important aspect when deciding between the two. As the Apple Watch Cellular and GPS version have the exact same battery capacity, many raise the question, Does the Cellular Apple Watch have worse battery life than the GPS only Apple Watch?

The answer is yes because the Cellular Apple watch needs to be connected to an active network, which is more demanding for the battery, a cellular Apple Watch lasts 3 to 4 hours less than its GPS counterparts. This performance difference is quoted directly from Apple's own claims, so if the battery is an important differentiating factor, the Apple Watch GPS only will serve you better.

Cellular connectivity comes at a cost.

Although having a cellular Apple Watch gives you the freedom to fly like a free bird and be untethered entirely from your phone, you have to pay a monthly subscription fee for it. Like a classic apple move, it has partnered with cell phone providers who charge a premium of around £8 a month on top of your regular phone bills. This may not seem insignificant at the start, but over 3 years, you would have paid more money on phone bills than it cost you to buy the phone in the first place, so consider this price difference when getting the cellular version.

Also, not all network providers have services to support the Apple Watch. It requires an e-sim, which is not available in more developing countries. So, if you are a frequent traveller, most features that the cellular apple watch provides are not accessible for you.

Another restriction is that your Apple Watch must be connected to the same carrier as your iPhone. So, if your carrier doesn't offer Apple Watch cellular connectivity, you'll have to wait for them to catch up or transfer carriers.

In the UK, only Truphone4 and EE provide the service.

Choice of Materials

The Apple watch is mainly made out of three materials: aluminium, stainless steel, and Titanium. If you want the more expensive choice of materials like the Titanium and Stainless ones, Cellular is your only option. Also, if you want the Sapphire Crystal display on your apple watch, which is much more rigid than the Ion-X glass display used in aluminium apple watches, you are limited to the cellular version again.

Apple Watch Cellular vs. GPS: Straps options

Strap options are essential when it comes to the Apple watch as most of us want stylish Straps. Everyone has their personal favourites ( mine is Stainless Steel Milanese Strap ), so does your favourite Strap work on both GPS only and Cellular version? Thankfully the answer is yes. The dimensions of the Straps are identical and, therefore, can be used interchangeably. In addition to Apple's official bands, there are a few third-party solutions that might help you obtain the style you desire while saving money. Check out our full review on the best Apple Watch Straps you can buy in 2022.

Apple Watch Cellular vs. GPS: Price

The price is the final differentiating factor when choosing between the GPS and Cellular versions. The GPS only version starts at £369, which is exactly £100 less than the cellular version priced at £469. You should also include around £100 ( £79 if you pay yearly) on phone bills. That makes owning a cellular version of the Apple Watch twice more expensive than using a GPS only one.

Final Verdict

The Apple Watch Cellular version has better features but sacrifices battery life to achieve it. On top of that, it is pretty expensive when compared to GPS-only models. So, it is up to you to decide if the extra features and the tether-free life is worth paying the premium. If so, get the Cellular version but if battery life is most important to you, get the GPS only version.

---