11 Best Apple Watch Faces You Should Try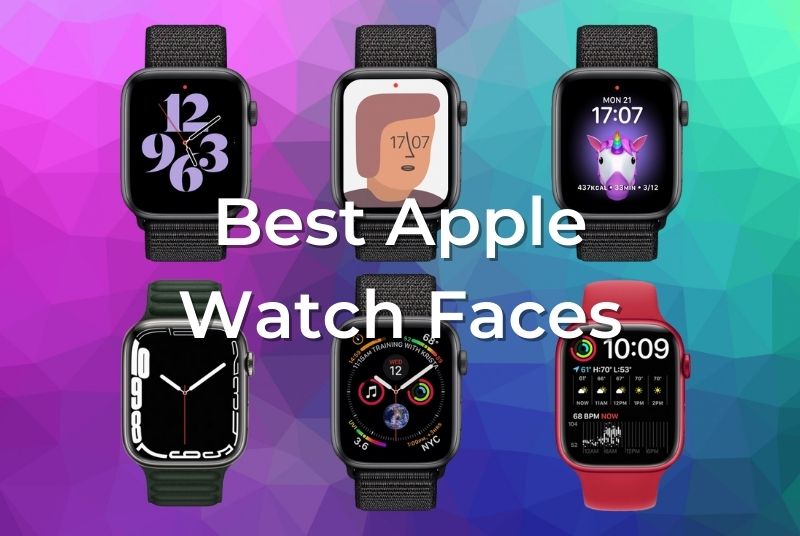 When it comes to personalising and customising your Apple Watch, the watch face you choose for the display is crucial. It should match your own style, convey all the information that matters to you, and look beautiful, all at the same time. While third-party watch faces aren't allowed on the Apple Watch, Apple does have a massive library of its own. So, here are some of the top Apple Watch faces to check out.
Portraits
The portrait watch face is the only new watch face in watchOS 8 so far, but it's excellent and fun to use. With this new Apple Watch face, you can simply choose any portrait mode photo you have taken with your iPhone as your watch face background. You may also choose between two complications: one in the middle and one at the bottom. And the best part about this watch face is how it displays your photographs. On the Apple Watch, with a subtle 3D effect with perspective movements. You can also tilt the digital crown to bring the subject of the shot forward, which is a neat feature and a great party trick.
Infograph
If you like to glance at all the helpful information quickly, the infograph watch face is for you. It has over eight complications that you can customise at your will. In addition, the Infograph watch face also makes excellent use of space and uses every part of the screen real estate to showcase some useful information. But because of this approach, specific individuals may find this watch face to be overly cluttered with information; if this is the case, you may either pick a different watch face from the remainder of the list or turn off some of Infograph's complications. We highly recommend you try out the Infograph watch face before discarding it as the images do not do justice to the usefulness of the watch face. 
Contour 
Contour is one of the new faces introduced with the Apple Watch Series 7 and is exclusive to that model. It's designed to highlight Apple's latest smartwatch's more curving casing. You may choose between displaying the typography flat on the screen or matching the curves of the Watch casing and can change the background colour to give it a unique look. 
Modular Duo
Modular Duo, Apple's second major watch face, debuted with Watch Series 7, and it takes full advantage of the additional screen real-estate on Apple's newest watch. You can add up to three complications and change the colour and font of those complications, but the multicolour design is our favourite.
Astronomy
The astronomy watch face lets you place earth, moon, or solar system images on your watch, with room for complications at the top and bottom of the watch face. You may also interact with the watch face by twisting the crown, revealing information such as the next full moon. This watch face is perfect for any enthusiast and has a simple look that many love.
Fire and Water
Apple is known for doing things differently, and one of its boldest moves is the Fire and Water watch face. So, what's so interesting about these simple-looking animations, you ask? Apple reportedly spent hours filming real fire and water to create this animation, and honestly, they are not animation at all, but instead real videos of blazing fire and water. The watch faces particularly pop on Apple's Retina display. You may choose between a rectangular or round dial with up to three complications. You may go all out with fire or water, or you can combine the two and view them side by side.
Artist
The Artist watch face, designed by artist Geoff McFetridge, features faces that softly display the time as the eyes and nose. When powered down, the always-on Series 5, Series 6, and Series 7 will reveal the outline of the drawing when tapped on the screen to edit and customize the face shown. It's abstract, yet it has a distinct appearance making it a widely popular option. 
Memoji
The coolest of them all has to be the customisable Memoji watch face that you can import directly from your iPhone. There is also a small, customisable area where you can put useful information. If there is one watch face that people are bound to take notice of, it is the Memoji watch face.
Toy story 
Who doesn't enjoy the animated film Toy Story? It's one of my all-time favourite animated films, and if you're a die-hard fan, the Toy Story watch face will pique your attention.
The watch face includes delightful tiny animations from all of the key Toy Story characters, allowing you to have Buzz Lightyear or Woody on your wrist. You may also touch on the watch face to view more animations from various characters.
Typograph
The typograph watch face is another fun casual watch face for your Apple Watch. With this watch face, typography takes centre stage, as the name indicates. You have three custom typestyles to pick from classic, contemporary, and rounded. You may also select whether you want to see just four digits (12,3,6,9) on your watch face or all twelve, as well as whatever script you want to see them in. Overall it is a great watch face for casual users and for folks who love simplicity. 
Simple
While we are on the topic of simplicity, here is the least simple watch face with no bells and whistles at all. You can think of it as the polar opposite of the popular Infograph watch face. The Simple look allows you to customize the dial style, so you may go absolutely minimalist with only the watch hands or add the hour markers.
Best Apple Watch Faces by Use-cases
Most Informational: Infograph

Best for Exercising: Infograph 

Most Minimal: Simple

Best for Formal Wear: Contour

Coolest Looking: Artist / Toy story 

Best for Informal Wear: Contour

Best Always on Display: simple

Best party trick: Memoji
Personalize Your Apple Watch Completely
The best part of owning an Apple Watch is the ability to completely customize it according to your heart's desire. You can have any watch face to match your outfits or even your environment. If you want to take the customization a step further, consider choosing a watch strap that complements your watch face. You can buy them directly from Apple, which will set you back somewhere between £50 all the way to £489. If you want to get one at a reasonable rate, consider picking one up from a third-party reseller. Make your Apple Watch a canvas of your imagination. 
---