A Complete Guide to iOS 16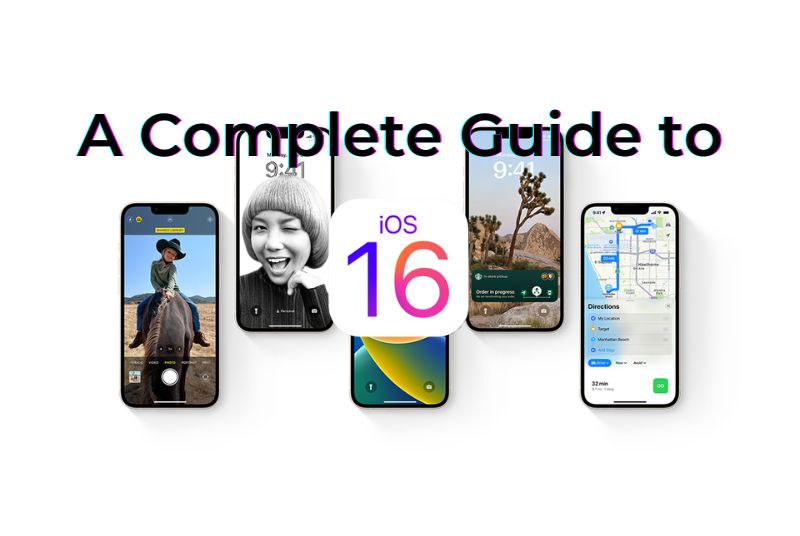 Apple's keynote for WWDC 2022 was feature-packed with exciting new software updates for iPhones, iPads, MacBooks, and Apple Watches. Apple also unveiled the new MacBook Air and its updated M2 processor, which will likely power the next batch of Apple devices. But as the next big iPhone update, iOS 16 was the star of the show and grabbed our attention with an array of revolutionary features that would significantly influence the way most people interact with their iPhones. So, without further adieu, let's see what's new in iOS 16. 
New Lock Screen
Not just iOS 16, but one of the biggest attractions of WWDC 2022 was the new lock screen feature. I had lost count when Apple had previously shown some love to its lock screen, and for the longest time, users had no option to customize their screen other than changing the wallpaper. But it's all about to change as Apple is offering widget support for the first time ever in its lock screen. 
In iOS 16, the Lock Screen has a multilayered effect that places subjects and photos in front of the time on the Lock Screen, giving it a sense of depth. Different typefaces and colours can be used to change the date and time. You can add informative widgets like calendar events, weather, battery levels, alarms, time zones, Activity Ring progress, and so much more, many of which were inspired by Apple Watch complications.
The Lock Screen gallery has many different options to choose from, and you can customize them exactly the way you want. There are also many premade lock screens like the weather condition screen that changes throughout the day or an Astronomy inspired lock screen with cool animation of the earth. I love the black and white lock screen as it looks cool and conserves power at the same time. You can also quickly switch between screens with one swipe. 
The Focus mode introduced in iOS 15 was improved in iOS 16 and is more powerful and easier to use than ever. One nice touch is integrating focus mode with the new lock screen. You can now associate a Lock Screen wallpaper and widgets with a specific Focus mode and can activate it simply by swiping to that Lock Screen. Focus filters can also show only relevant content to a user's Focus mode, ensuring that you are not distracted by irrelevant information.
And finally, the notifications has also seen some love. Apple has always lagged behind in managing notifications, and most users preferred the grouped notification in android. But in iOS 16, notifications will now appear at the bottom of the Lock Screen, giving you a clear view of your personalized Lock screen. Apple also introduced Live Activities, a new notification style that is essentially a cross between a notification and a widget. The Uber widget is now a Live Activity. Instead of receiving a notification when your Uber arrives, you will now see a real-time progression and keep track without getting bombarded with notifications.
Overall, iOS 16 has revamped the iPhone lock screen completely, and it is one of the biggest updates in recent memory.
iMessages
It is hard to find a native messaging app that could shine a light to iMessage, and Apple has widened the gap even more in the iOS 16 update. Users can now unsend recent messages or edit any messages after being posted, much like a Facebook comment. You can also mark entire conversations as unread so you can return to them later. 
SharePlay, introduced in iOS 15, is also coming to iMessage now, allowing you to enjoy synced content like music or movies with shared playback controls while chatting in iMessages. How cool is that?
Mail
Unlike iMessage, the default mail app on iPhone has always lagged behind Google's Gmail app, and Apple has some catching up to do here. Users of the Mail app can now schedule emails in advance and cancel the delivery of a message before it reaches a recipient's inbox. 
There is also a feature where if a user forgets to include an attachment in the mail, the app will detect it and remind the user to attach it. Another cool new feature is the ability to resurface a message with Remind Later, and Follow Up can remind you to check on an email if you haven't heard back.
Given that most of these features are already available in Gmail, it's unlikely that I will switch my mail app anytime soon, but it's a huge step up from its predecessors. 
Dictation
According to Apple, the dictation feature has over 18 million monthly users, which is impressive in and of itself. In iOS 16, dictation has a few more tricks up its sleeve; when using dictation, the keyboard will now stay open, making it easier than ever to switch from voice to touch as needed. Longer messages will also have punctuation added automatically.
Live Text and Visual Look Up enhancements
Both Live Text and Visual Look Up, which were introduced in iOS 15, have been improved thanks to new on-device intelligence in iOS 16. Live Text is now available for video playback, allowing you to pull Live Text from the video. This can be accomplished by pausing a video on any frame and then interacting with Live Text. Being a student, I found this feature to be quite exciting, especially when I am coding. I can copy Text without having to worry about typos or syntax errors.
But the best implementation of this feature is when you can tap and hold on to a subject in an image, for example, your pet and using the power of AI, only the subject will be copied and can be pasted in any other app. 
Wallet App
Big changes are coming to the Wallet app, with Apple Pay Later being the most significant one. With iOS 16, you'll be able to split an Apple Pay purchase into four equal payments over the course of six weeks, with no interest or additional fees. You can view, track, and repay Apple Pay Later payments right within the Wallet app with Apple Pay Later. Users can sign up for Apple Pay Later when they use Apple Pay to pay at a store or right in their Wallet. Apple Pay Later will be available wherever Apple Pay is accepted, both online and in-app, at launch this will only be available in the USA.
Other improvements 
There are several other improvements that are worth a mention. Siri can now perform shortcuts and do simple tasks like hang up calls without confirmation. 
iOS 16 brings a major update to Maps. 3D view, which was introduced in iOS 15, is now extended in 11 more countries, including France, Switzerland, New Zealand, and others
iCloud share library can now detect your family members in the photo and suggest you keep the photo in a separate library where every family member has access. So gone are the days when you have to manually send each other photos after an event. 
With the introduction of Safety Check in iOS 16, major changes to privacy will be made. This appears to be a direct response to the controversy surrounding AirTags and the unwelcome tracking of people in abusive domestic relationships. You can now turn off all tracking features with the click of a button. 
Which devices will support iOS 16 
Apple's iOS 16 is compatible with all iPhone 8 and above devices. So the full list includes iPhone 13, 13 mini, iPhone 13 Pro, iPhone 13 Pro Max, the entire iPhone 12 and 11 lineups, as well as the iPhone Xs, Xs Max and XR. The older iPhone X and iPhone 8 and iPhone 8 Plus are also supported. iOS 16 will not be available on iPhone 7 and older devices. 
When will iOS 16 be released to the public?
iOS 16 will be officially released in September along with the new iPhone 14 series, but the developer beta for iOS 16 is available now for download. 

To learn more about all the new features released in WWDC 2022, keep your eyes open on our daily blogs.


---