A Complete Guide to iPadOS 16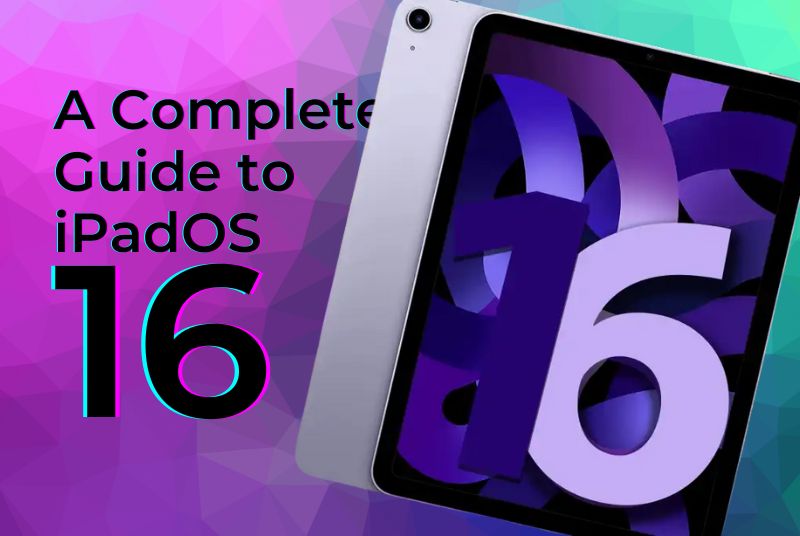 Since Apple equipped its iPad Air and iPad Pro with the same M1 processor found on MacBooks, users were anticipating some major transformations in iPadOS. And Apple did not disappoint, unveiling iPadOS 16, the next major iPad software update, which is jam-packed with features that will change how we work and play this fall. Apple is making significant changes to multitasking, enhancing collaboration in the iPad's built-in apps, and even allowing to resize windows on the iPad. This article will give you a complete guide of everything there is to know about the new update. 
Multitasking and windows
The most significant update to the iPadOS 16 was the inclusion of multitasking and a resizable windows similar to current MacBooks. The significance of this update is huge as it takes the iPad line even closer to becoming a portable computer. Stage Manager, which is also available on macOS Ventura, is another essential upgrade. Stage Manager, in essence, provides a "stage" for your apps, placing the current app in the middle of your screen.
You can also overlap windows with Stage Manager by dragging an app to the side of your current app. Stage Manager will automatically resize your apps to give you a better view while concentrating on the app you just imported. You can always resize and reposition your apps if you need to see more content.
It's worth noting that Stage Manager is only compatible with iPads equipped with the M1 chip. This is due to the M1 chip's Virtual Memory Swap feature, which speeds up multitasking and allows Stage Manager to run in the background. Currently, Stage Manager is only available on the 2021 iPad Pro and fifth-generation iPad air. 
External display support
Support for an external display has been on the wishlist for iPad users for a long time, and finally, it has been addressed in iPadOS 16. External monitors were partially supported by iPadOS, but their functionality was limited because they essentially mirrored what was on your iPad's screen and could not take advantage of the aspect ratio of different apps. 
Now, your wallpaper and dock will stretch to your external display when you connect a compatible iPad running iPadOS 16, but your existing app windows will remain on your iPad's screen. When you move your iPad's pointer to the external display and start an app from the dock, it will launch in Stage Manager on that display. You may then drag and drop files, group programs, and windows and resize and overlap windows. You will need the smart keyboard which has a built in trackpacd to get the external display to work fully. 
In total, you can run up to eight apps on your iPad and external monitor at the same time. And as you might have expected, to take advantage of these cool new features, you'll need the m1-powered processors. 
Support for Desktop apps
One feature fans were hoping to get was support for the full desktop version of their favorite apps. Although third-party apps are yet to get full desktop support, Apple's built-in iPad apps, like the files app, get support to change file extensions, while the mail app gets drag and drop functionality. Native iPadOS apps also support search, support for multiple selections and actions, in-line undo and redo options, find and replace, and more. These are promising improvements, and we are excited to see what iPadOS 17 is going to offers.
Reference Mode Support on 12.9-inch iPad Pro
The Liquid Retina XDR Display on the high-end 12.9-inch iPad Pro running iPadOS 16 allows users to utilize the iPad as a reference monitor. This is for artists and creators who work on huge projects and require correct colors and realistic detail.
Refreshed weather app 
The weather app on iPadOS16 saw an improvement with the inclusion of a 10-day weather forecast, hourly forecast, precipitation, UV index, and more. Additional statistics, charts, and projections are also available. Apple has released WeatherKit, which lets developers integrate Apple's weather data directly into third-party programs.
iPadOS 16: Compatibility and supported devices
Apple specifies that the software upgrade will work with the iPad (5th generation and later), iPad mini (5th generation and later), iPad Air (3rd generation and later), and all iPad Pro devices. According to iPadOS 15 compatibility, the 2nd generation iPad Air and the 4th generation iPad Mini will no longer be supported by the new upgrade.
Note: Not all iPadOS 16 features will work in the older generation iPads because of the processor they are equipped with. Desktop apps, support for an external monitor, and other notable features are only reserved for the latest 12.9-inch iPad Pro and iPad Air. We have to further test the software in beta before concluding which features the older iPads will miss out on. 
iPadOS 16: Release date and beta 
Apple did not officially mention any date for the release of the iPadOS 16, but it is safe to assume that it will be released alongside the new iPhone in Apple's fall 2022 event. Historically these updated are sent to all the devices that qualify in September.
As for the beta, Apple has already released a developer preview on WWDC. For the public beta, we will have to wait a month or so before finally getting our hands-on with the software. 
Verdict 
So what's our impression about the new iPadOS 16? In short, iPadOS 16 takes us even closer to turning iPads into fully-fledged workstations. There are a ton of improvements over its predecessors and minor tweaks that would make the experience even more polished for the end-user. One small disappointment we have is the exclusion of desktop-grade app support for third-party apps like photoshop or even apple's own apps like final cut pro and Xcode. But there is always iPadOS 17 to look forward to. 
To learn more about all the new features released in WWDC 2022, keep your eyes open on our daily blogs.
---