A Complete Guide to macOS Ventura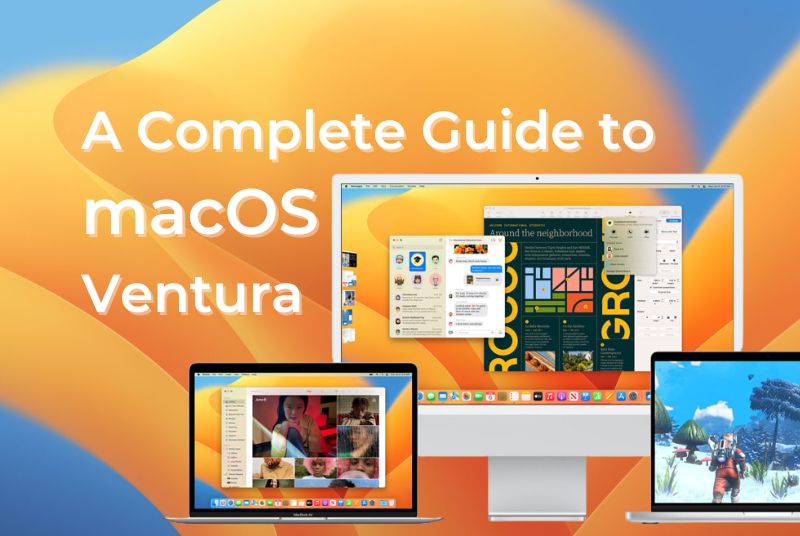 Apple released its newest macOS, Ventura, named after the city Ventura in California, following the home state naming system they introduced in OS X Mavericks. Unlike OX X, however, the recent updates have been more of an evaluation rather than a revolution. 
But there are still a handful of useful updates and visual changes that Mac users will appreciate. In this article, we look at the best features that macOS Ventura offers and how much splash they can create in the market. 
The magic of continuity 
This is not an exclusive macOS Ventura feature, but this has to be the biggest quality of life improvement for me. Now facetime calls from your iPhone or iPad can be seamlessly transferred to your Mac when you bring the devices closer together. With tight integration within its own ecosystem, Apple has taken the continuity feature to a whole different level, and it continues to impress us in the new macOS Ventura as well. 
The Continuity Camera is another notable feature of the macOS Ventura release. If the FaceTime camera attached to your MacBook isn't up to your liking, you can now utilize your iPhone as a webcam for your computer. Your iPhone must be running iOS 16, and your MacBook must be running macOS Ventura to use the Continuity Camera function.
To utilize the Continuity Camera functionality, just mount your iPhone to your Mac, and macOS Ventura will recognize and connect to it wirelessly. You'll be able to utilize the iPhone camera in FaceTime and other third-party apps like Zoom after a successful connection. 
Safari 
With the infamous internet explorer all set to retire in the coming days, it was time Apple took notice and made some big improvements in its default Safari browser. The recent updates on safari were buggy, and users ran into issues where downloads won't start after the new M1 MacBook was woken after sleep. Fortunately, things have settled down in Ventura, and Apple decided to hold off on adding too many new features this time and concentrate on the stability of the overall browser. 
But that doesn't mean it has nothing to offer; Apple is introducing Shared Tab Groups in Ventura, which let you share a collection of tabs with friends. Furthermore, these Tab Groups provide several start pages that you can personalize with a new background picture and preferences. Safari also included extension synchronization, allowing you to install the same extensions on all of your compatible devices simultaneously. Neat!
Stage Manager
On the Macs and iPads, Stage Manager has quickly become one of my favorite features. It gives you a new way to arrange all of your open apps and windows. You can quickly drag different apps to create a workflow where you can seamlessly multitask. You can also group tabs in stage-manager, keeping everything nice and tidy.
Revamped Game Center
With macOS Ventura, Apple launched a new Game Center. You may now check your friends' play activities and achievements in the new Game Center. Additionally, macOS Ventura has SharePlay compatibility, which allows you to play games with your friends while on a FaceTime call or to have a chat through iMessage.
Facetime Live Captions
Another accessibility features Apple introduced in facetime is the live caption. People who have a problem hearing can easily communicate with others using facetime. But because the live caption requires on-device processing power, it is likely that only the M1/M2 powered MacBooks will have this feature for now. Older intel-based processors may not have this feature altogether. 
Passkeys
The auto full passwords feature in macOS Ventura also gets some updates and is now revamped into a passkey app, which is more accessible to log in and much safer because all your data is now kept locally on the device. This also means this feature should work even if you do not have an active internet connection and would sync across devices using the iCloud keychain. 
Clock App
Apple has finally launched the iOS/iPad Clock App to macOS, which came to me as a bit of surprise. I assumed it was always there, but regardless, the gorgeous Clock we've grown to love looks fantastic here and offers many great features. These include setting world clocks, timers, and alarms, extending Clock functionality for shortcuts, and Ask Siri integration.
Freeform
Freeform is a new canvas-style app that allows you to brainstorm for new projects, aggregate important assets, or make simple notes. You can use this more like a whiteboard with many useful features to get started quickly. Freeform will most likely be more suited for the touch-enabled iPadOS 16, but we are excited to see what it brings in macOS Ventura as well. 
Photos
In the native Photos app in Ventura, iOS 16 and iPadOS 16 has a feature to detect and delete duplicate photos. This feature has been long overdue, as other popular apps like google photo had this feature for a few years now. We have high hopes for the effectiveness of this feature as Apple promises to combine multiple images to create high-resolution images, which should improve quality. Removal of the duplicated photo will also help manage cloud storage as it will now free up a lot of space that was previously occupied by the photo app. 
MacOS Ventura compatibility 
Most of the changes in macOS Ventura will happen under the hood, and some of the MacBooks on older processors will struggle to keep up. Here is a list of Macs that can run macOS Ventura:
MacBook models from 2017 or later

MacBook Air models from 2018 or later

MacBook Pro models from 2017 or later

Mac mini models from 2018 or later

iMac models from 2017 or later

iMac Pro (all models)

Mac Pro models from 2019 or later

Mac Studio (all models)
Devices from 2017 are still supported; that is 5 years of software update, so no complaints here. 
macOS Ventura release date
As part of Apple's Developer Preview program, the new macOS Ventura update is now available for download. In terms of the public beta, it will be ready in July 2022. However, if you want to use the stable version of the software, which is highly recommended, you may need to wait till October or November 2022. 
---