A Complete Guide to the new M2 Apple Processor SoC.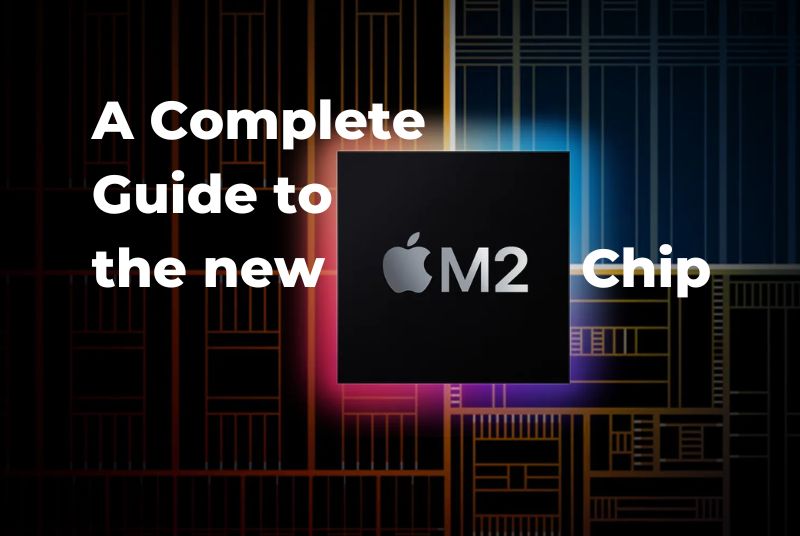 One of WWDC 2022 main attractions was the release of M2 processors, which gives the totally redesigned MacBook Air and updated 13-inch MacBook Pro new levels of power-efficient performance and capabilities. This article will provide you with a complete guide to the new M2 processor so that you can decide if the upgrade is worth your time. 
The new M2 is built on second-generation 5-nanometer technology and improves on M1's industry-leading performance per watt with an 18% faster CPU, a 35% more powerful GPU, and a 40% faster Neural Engine. It also has 50% greater memory bandwidth than the M1, as well as up to 24GB of rapid unified memory. M2 adds all of this to the fully redesigned MacBook Air and updated 13-inch MacBook Pro, as well as new unique technologies and increased efficiency.
Apple's primary focus when developing the M2 was to create an efficient chip that would draw less power yet provide excellent performance. Apple was one of the first companies to understand that the massive CPU upgrades claimed by most CPU companies ( both AMD and INTEL) mainly were diminished because of thermal throttling. A processor that uses a ton of power should theoretically produce more heat which would significantly reduce its performance in the long run. Apple, on the other hand, emphasises efficiency so that a processor performs excellent even with a lower TDP resulting in uncanny watt-to-performance ratios. M2 continues to build on the same principle, and we expect the SoC to be even more efficient than before. 
20% increase in Transistors
M2's system-on-a-chip (SoC) architecture also improved. The second-generation 5-nanometer technology now uses over 20 billion transistors, which is 25% more than M1. The extra transistors boost features across the board, including the memory controller, which now offers 100GB/s of unified memory bandwidth, which is 50% faster than M1. M2 can also manage larger and more sophisticated applications thanks to up to 24GB of rapid unified memory.
Faster Power-Efficient Performance
The new CPU has quicker performance cores and a bigger cache, as well as vastly improved efficiency cores for even more performance advantages. They give 18% more multithreaded performance than M1, allowing M2 to tear through CPU-intensive tasks like producing music with layers of effects or applying complicated layers to photographs while using very little power. The CPU in the M2 gives roughly double the performance at the same power level as the newest 10-core PC laptop chip. M2 also uses a fraction of the power of a PC processor while delivering the same peak performance. When compared to the latest 12-core PC laptop chip, which requires significantly more power to deliver an increase in performance and thus is found in thicker, hotter, noisier systems with shorter battery life, M2 delivers nearly 90% of the peak performance of the 12-core chip while using only one-fourth the power.
Apple's next-generation GPU, with up to 10 cores – two more than M1, is also included in M2. The 10-core GPU, when combined with a bigger cache and increased memory bandwidth, provides a significant gain in graphics performance, with up to 25% higher graphics performance at the same power level and up to 35% better performance at full power. When compared to the integrated graphics of the current PC laptop processor, the GPU in the M2 delivers 2.3x quicker performance at the same power level and equals peak performance with a sixth of the power. Even while playing graphics-intensive games or processing huge RAW photos, M2's better performance per watt allows PCs to have outstanding battery life and operate cool and silently.
Apple's Next-Generation Custom Technologies
M2 brings Apple's most cutting-edge bespoke technology to the Mac, allowing additional features, improved security, and more:

The Neural Engine can handle 15.8 trillion operations per second, which is more than twice as fast as M1.

A higher-bandwidth video decoder is included in the media engine, which supports 8K H.264 and HEVC video.

Apple's strong ProRes video engine supports multiple streams of 4K and 8K video playback.

Apple's new Secure Enclave offers industry-leading security.

A new image signal processor (ISP) reduces picture noise more effectively.
Conclusion
Apple's M2 processor is a true successor of the already fantastic M1. But the M2 processor was not aimed to be blazing fast and break all CPU records. Even Apple's own M1 pro, M1 max and M1 ultra will outperform the M2 processor. If you want the best performance processor, there are other options on the market.

What M2 was really made for efficiency and power-to-performance ratio. You can unplug the power cord of an M2 MacBook Air and still enjoy the same level of power as a desktop processor, and that is the type of efficiency that the M2 delivers.
---