Apple iPhone skins or phone case? What is the best way to customize your Apple product?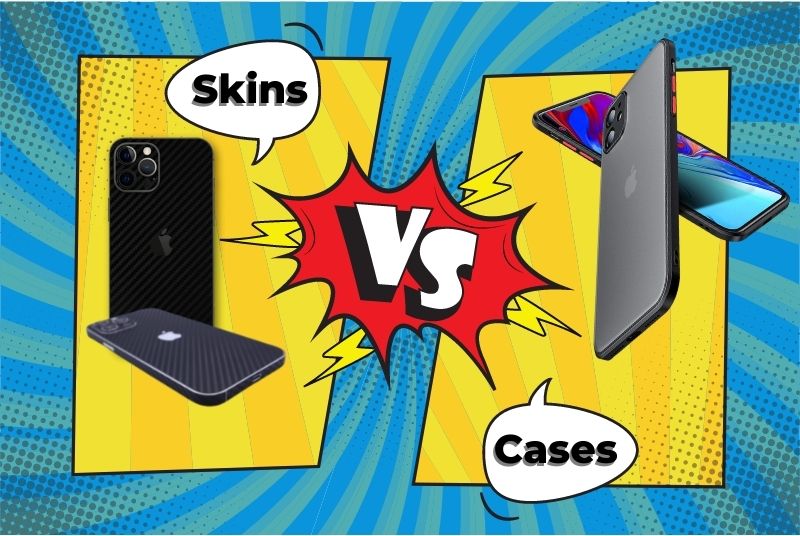 The iPhone 14 is just around the corner, and if the leaks are pointing in the right direction, we are going to see the same glass-on-glass design language that was introduced back in 2017 with the iPhone X. Don't get me wrong, iPhone design has matured to a level where we should not expect drastic changes year over year, but sometimes it feels good to change things up a little. Apple does acknowledge this and offers several phone case options to differentiate your phone from others. 
However, I personally do not like using a case! Most modern phones, including the iPhone, are created in such a way that it is comfortable to hold. But when you put a cover on the phone, you lose the overall aesthetics of the phone.  
A phone case also adds a lot of heft to the phone, making it look bulky and challenging to manoeuvre. But it is not possible to ditch the cover entirely as it is easily scratched, and there is nothing worse than a new phone getting scratched. So, the best option, at least for most tech reviewers, is to get a skin for your phone. 
Pros and Cons of Apple iPhone skin  
Of course, there are pros and cons of using an iPhone skin instead of a case. Let's look at them in detail.
Pros of using an iPhone skin 
More customizable: iPhone skins are significantly more customizable than traditional hard cases. You can even combine multiple skins to create a unique-looking one for yourself. 
Do not add any weight: iPhones are made to look beautiful, and a lot of effort is put into making them as thin as possible. An iPhone skin does not add any weight or thickness to the iPhone when applied, making it aesthetically beautiful. 
Cheaper: iPhone skins are often more affordable than a hard case. You can pick a dBrand skin in the UK for just £30 with free shipping. Other less popular iPhone skins are a lot cheaper than this, starting at just £10 - £20. 
Provides extra grip: Gone are the days when phones were made up of soft plastic that, although less durable, was much easier to hold. Most current flagships are made of glass that is slippery and prone to falls. A skin provides extra grip, which allows you to feel much safer handling your phone. 
Cons of using iPhone skin 
Do not provide any protection: Obviously, the biggest issue of using an iPhone skin is that it does not protect against accidental falls. The thin layer of skin almost does nothing against falls, and that is the biggest issue with iPhone skins. 
Durability: Even though iPhone skins are made of high-quality materials like vinyl, they will never outlast a rubberized case. Skins are prone to ripping and can potentially sustain an irreversible injury after a hard fall.
Not reusable: You can change a case and reuse it again when you feel like changing it; iPhone skins, however, are not reusable, and if you remove it once, you have to get a new one altogether. 
Hard to apply: iPhone skins are often hard to install and need some experience if you want to put them flawlessly. This can be an inconvenience, especially if you like shopping online, as you may have to apply it all by yourself.
Should you apply iPhone skin?
A phone case makes more sense, especially when you consider the safety of your device. I am sure that most iPhone enthusiasts will agree with me, but then again, many people in the tech community prefer skins over cases.
So, the question is, why so many people are interested in iPhone skins, given there is so much at stake? The simple reason is the ease of use and aesthetics. A big portion of the community value the looks and ease of use that skins provide over safety and durability of a phone case. A famous tech reviewer in the UK, Arun Maini, a.k.a Mrwhosetheboss, prefers using a skin over a case. 
But you also have to consider that we reviewers have access to many smartphones and the luxury to switch between them that many of you may not have. So, ultimately it all comes down to personal preference. If aesthetics is important and you upgrade your phone in a couple of years' time, you may consider picking an iPhone skin for your phone. But if you are thinking long term and value durability and want to use the phone for an extended period of time, it will be best to pick a protective phone case and also a screen protector.
Where to buy iPhone skin and cases?
You can pick iPhone skins online from popular brands like Dbrand, XtremeSkins, Skinit, etc. They all are made from premium quality materials and provide you with an extra pair of skin in case you ruin the first one when trying to apply it on your phone. 
For iPhone cases, the choices are much wider, with hundreds of options, including official offerings from Apple and other third-party case makers like Rhinoshield, CASETiFY, Mous and others. Also don't forget to check out our growing collection of iPhone cases an skins at Ospeka Straps.
Don't forget to customize your Apple Watch.
Whether you are using an iPhone skin or a phone case, do not forget to show your apple watch some love. If aesthetics matter to you, you should also make sure that your iPhone skin complements the strap of your watch. The default Apple Watch strap is often too simple and does not have the same personality as the more expensive offerings. But getting multiple watch straps can be a bit costly, so we recommend you try out third party resellers like Ospeka Straps, who offer all trendy apple watch straps of both 42mm and 45mm at affordable rates.
Final words
There are several ways to customize your iPhone, and you can pick either a skin or a phone cover that best suits your need. For more tips and tricks on iPhones and Apple watches, keep an eye on our blogs. 
---