Apple Watch Series 7 41mm vs 45mm: Which size Apple Watch should you get?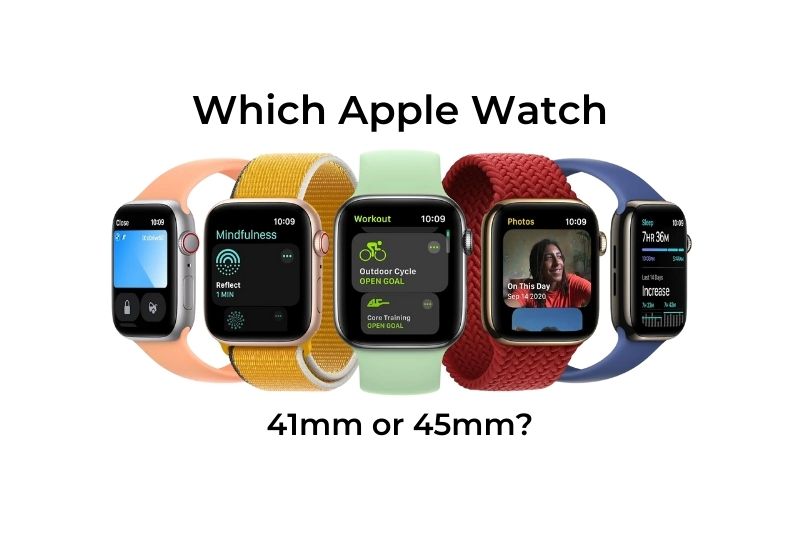 When it comes to Apple watches, you have two size options to select from, the 41mm and the 45mm. Apple measures these watches vertically, as opposed to other manufacturers who measure watch sizes horizontally. Below are the detailed dimensions of both watches.
| | | |
| --- | --- | --- |
| Apple Watch  | 45mm  | 41mm |
| Display Area ( apple watch 7) | 1143 sq mm | 904 sq mm |
| Horizontal length  | 38 mm | 35 mm |
| Weight  | 38.8g  | 32g |
| Entry-level GPS only price  | £209 | £179 |
| Entry-level Cellular only price  | £299 | £329 |
You may think the 4mm difference between the models is insignificant, and you won't even notice the difference. But in reality, 4mm out of 41mm makes up around a 10% increase in physical size, and when you are working with so little real estate, a 10% increase does make a substantial difference. Moreover, both sizes come with slight differences in features which will all add up and dictate the whole experience you have with your watch. So which size apple watch you get is a crucial decision to make, and without further ado, let's get started.

Apple Watch 41mm vs 45mm: Size of your wrist

When deciding which size apple watch to get, the most obvious question is what best suits your wrist size. Some people have smaller wrists than others, and it is up to you to decide which size best suits your wrist. Apple does help you out a bit by stating the official sizing on their website. The 41mm model is ideal for wrists measuring 130 to 200mm, while the 45mm model is suitable for wrists measuring 140 to 220mm. But, unless you're at either end of the supported sizes, you're free to choose whichever model you like more.

Getting a 45mm watch on a smaller wrist may look too bulky, while a smaller 41mm on a larger wrist will look too small. So we highly recommend you to try out the watches in person before you consider ordering them. Also, if you have a friend or colleague with an older apple watch, you can still try it out to check if the size fits your wrist.
Apple Watch 41mm vs 45mm: display size

Internally both 41mm and 45mm house the same components (apart from the battery), but where they differ most is in display real estate. Most users prefer the larger display that houses the 45mm variant. Now, you may think that a 4mm increase in display size is not that big of a deal, but in reality, it's quite noticeable. Take the apple watch series 7, for example; while the 41mm has a display area of 904 sq mm, the one with 45mm has a display real state of over 1143 sq mm, which is 28.7% larger than that of the 41mm.

Thanks to its larger display, everything looks much crisper and sharper in the 45mm variant. To take advantage of this screen real estate, Apple introduced a QWERTY keyboard starting with Apple watch series 7 and typing on the larger 45mm variant is much easier when compared with the 41mm version.

If display size and accessibility are essential in your list, picking the 45mm variant will be a better choice to make than the 41mm one.

Apple Watch 41mm vs 45mm: Band Bias

Apple only sells various bands in specific sizes, and so if you have your heart set on a particular band (currently, I have my eyes on the Stainless Steel Milanese Strap), you may have to settle for the size that matches it. However, since 3rd-party stores like Ospeka Straps sell bands in every size and shape, it doesn't really matter whether you choose a 41mm or 45mm one.

Apple Watch 41mm vs 45mm: Battery life

The larger 45mm apple watch always comes with a bigger battery when compared to the smaller 41mm one. This makes sense as a larger apple watch has a bigger room in the casting to fit a larger battery, but this does not always mean a better battery life. The reason behind it is that the larger watch also has to power a bigger display. As Apple introduced an always-on display in the Apple Watch Series 6 and onwards, the difference in battery life between the 41mm and 45mm is almost identical with the larger 45mm lasting just 20 mins longer than the 41mm one. 

Apple Watch 41mm vs 45mm: price comparison

The price difference between the Apple Watch 41mm and the Apple Watch 45mm is virtually insignificant; thus, it's unlikely to be a deciding factor in your decision. Still, for those who are curious, you pay £30 extra for the larger 45mm aluminium build apple watch and £50 extra for the Stainless Steel one.
Regardless of which one you choose, over a span of 2 years, that's a little over a pound a month of added cost. You should probably focus on other aspects as the price increase between the sizes is insignificant when making this decision.
Apple Watch 41mm vs 45mm: Thickness

The thickness of the Apple Watch in both 41mm vs 45mm, is exactly the same, unlike the watch's two height and two display options. Apple houses all the sensors, chipset and battery inside its body, and unlike mechanical or digital timepieces, Apple does not have any complex mechanical part that requires an increase in thickness. So the thickness of the watch does not make any difference.

Summery

Both the 41mm and 45mm are great options, and honestly, it boils down to a personal preference on which version to get. If you want the largest screen possible on an Apple watch, get the 45mm variant. It also comes with a full-fledged keyboard, so you can reply to a text with much greater precision. But for all these features, you will have to pay a bit more than compared to the 41mm option.

And If you have a small wrist and do not want to carry around a bulky watch or simply want the most affordable Apple Watch, the 41mm will be great for you.

If you're still unsure, try them on and compare how they feel and appear on your wrist before pulling the trigger.
---