Apple Watch Series 6 - Tips & Tricks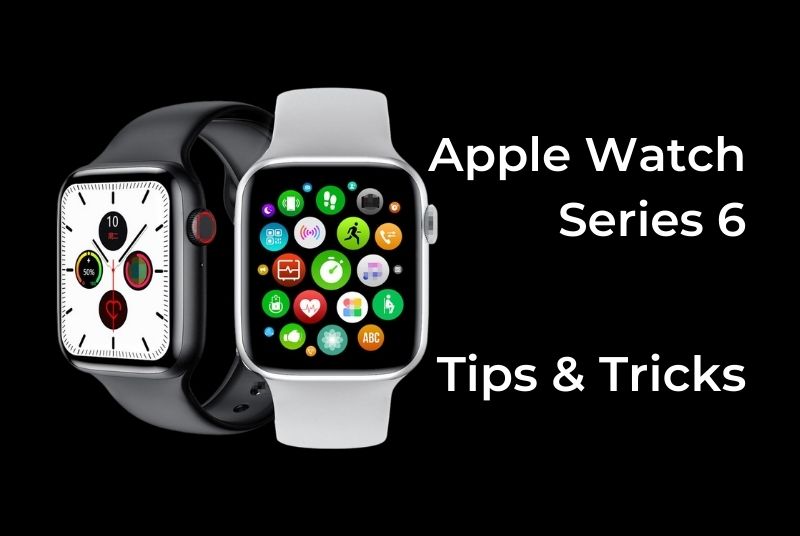 Now that the Apple Watch Series 7 is on the horizon let's take a look back and revisit the Apple Watch Series 6 and see if you are familiar with all the nifty features available for you with the Apple Watch Series 6. Whether you have been using the Apple Watch Series 6 for a while now or are new to Apple Watch Series 6, these tips and tricks will surely make your life easier and your experience with your Apple Watch much much better.
So without further a due let's jump right into the most important tips and tricks that there is to know about your smartwatch so you can really get the most out of your device.
To start off you can use Siri on your iPhone to locate your Apple Watch as Siri will actually utilize the heart rate sensor on your watch to give it a flash so you can locate it faster. In the same way, you can also use your Apple Watch to locate your iPhone. Simply open up the control centre by swiping up from the bottom and then tap on the small phone icon to pin your device and if you press and hold it will actually cause it to do a flash.
Staying in the control centre you can tap the little flashlight icon to make your screen super bright which could illuminate a dark room. And if you slide the brightened screen you'll see other options like strobe lights as well as a red light - perfect to be better identified if you are running outdoors during night time.
When you scroll all the way down in the control centre now you have the ability to rearrange the control centre as well as add or remove some options. This is available to you with watchOS 7.
Now if you receive an incoming notification or a phone call simply cover your Apple Watch with your palm and hold it down for a couple of seconds for the device to automatically switch over to the silent mode. You can enable the "cover to mute" feature by going into settings, sound & haptics then cover to mute.
Want your Apple watch to tell you the time. Sure, just tap the screen with two fingers on the watch face and it'll verbally read out loud the time. Want to take a screenshot - why not - then simply press and hold the crown wheel and the power button together. You can enable this feature by going into settings, general and then screenshots.
Browsing the internet on your Apple Watch might not be something you want to do, however, if you happen to have the need to quickly check out something on Google or want to see what's happening on Instagram now you can ask Siri to open up these websites. While browsing you can tap with two fingers to zoom in and use two fingers to move around on the screen. You can enable this feature by going into settings, accessibility and then zoom. You can also control the zoom level in the settings. Another cool feature now available with your Apple Watch is the ability to ask Siri to translate something over to a different language.
If you are using an Apple Watch with the ECG functionality you can actually measure your heart rate faster by putting your finger on the digital crown - very similar to like when you are taking an actual ECG.
The calculator on your Apple Watch actually has two cool features - the percentage and the tip calculator. So if you go into settings, then the calculator you can choose which one to show as default. Using the tip function you can calculate exactly how much each member in your party has to tip right on your wrist using the Apple Watch.
If you are not going to be able to charge your Apple Watch frequently, while you are travelling or doing something else, where you don't have access to power, you can put your Apple Watch into power reserve mode by going into settings and then battery. This should give you a few days worth of battery life. When it's time to revert back to normal you simply have to reboot your Apple Watch.
Another feature you might be interested in knowing is the chimes feature - which is not turned on by default. You can set it up in your settings, accessibility and then chimes for your watch to give you haptic feedback or play a sound every hour, 30 minutes or 15 minutes depending on your preference.
The compass in your Apple Watch Series 6 can be used as a leveller. A pretty handy tool if you have to level something up like a picture frame or even a wall-mounted television.
So there you have it, some nice tips and tricks for your Apple Watch Series 6. If you think I missed any cool features do leave a comment below. And as always thank you for reading.
Author | Nuwan Fonseka
---