Apple Watch Series 7 - Should you buy it?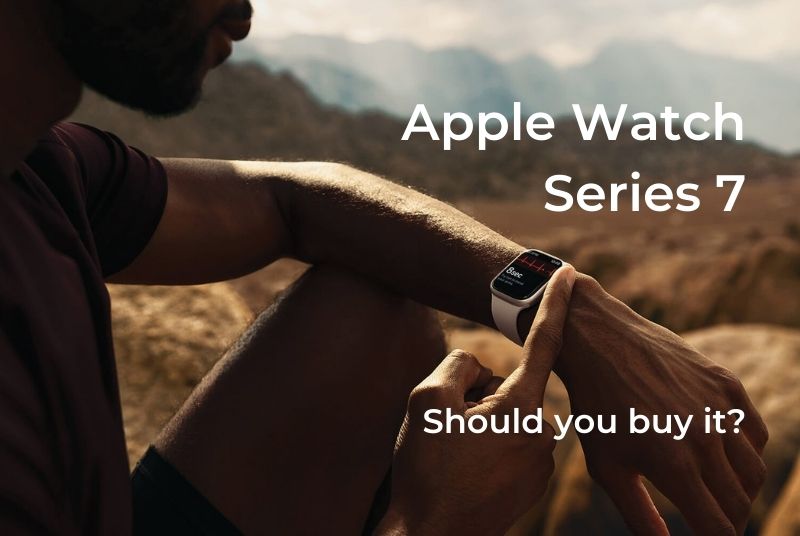 Since the holiday season is right around the corner, it is not a bad time to start thinking about what you are going to ask Santa for this Christmas - of course assuming you've been a very very good boy or girl. 
But all jokes asides this is typically the time of the year that most people look at upgrading or buying new tech. For the Apple fans, it sure is a great year to get some serious upgrades or even to opt into the Apple ecosystem - the new AirPods, the iPhone 13, the new mouth-watering MacBooks to the Apple Watch Series 7, the list goes on. 
Today let's take a deep dive into one of these new Apple products and see if you should buy it and try to understand who it is for - the Apple Watch Series 7.
According to some data, I gathered off the internet, it seems that only about 10% of the global iPhone users own an Apple Watch. So there's a large percentage of iPhone users still to adopt the Apple Watch. So before we can decide which Apple Watch someone should buy, let's look at what makes the new Apple Watch Series 7 special.
Bigger better screen
Without a doubt, one of the best new features of the new Apple Watch Series 7 is the bigger screen. Apple achieved this by reducing the bezel by 40% and by slightly increasing the body size from a mere millimetre. So the two new sizes for the Apple Watch Series 7 are 41 and 45 millimetres. Bigger screen real estate especially on a smartwatch is never a bad thing. This gives you more space to show the different complications on various watch faces, bigger buttons and more text. Also, the new screen is 70% brighter than its predecessor. 
The new screen is stronger as well. Not just in terms of scratch resistance but crack resistance meaning your watch can take a few tumbles without you needing to fear cracking the beautiful glass. Apple made this so since they showed an added focus for the outdoors with this new series of Apple Watches. 
The best part about the new body is that you can still use your Apple Watch Straps for the Watch Series 6. So if you have a favourite watch strap you can continue to use it with your new Apple Watch Series 7.
IP6X
The new Apple Watch Series 7 comes with an IP6X dust resistance so that dirt and grime just can't get inside. Again what a treat for the outdoors. On top of that, it is still rated up to 50m underwater so that you can wear it for a nice long swim. So whether you hike, swim, ride or just work outside your watch will be safer and more resilient for you than ever. 
Fast charging
The new Apple Watch Series 7 supports 30% faster charging than its predecessor which means that you'll only need to charge about 8 minutes for a full 8-hour sleep tracking with your watch. However, it is rated to last for just 18 hours, just like the Apple Watch Series 6 and Watch SE.
New colours
Rocking an Apple Watch is making a statement so you want it not just to work as a top-notch but also look good. You won't be disappointed since Apple has introduced some new colours with the new Apple Watch Series 7. 
So you can now get the aluminium model now in blue, midnight, starlight, green and a rosier red. The stainless steel variant comes in silver, gold, graphite and space black. Finally, the titanium variant is available in space black and titanium (duh!). 
The big question - who is it for and should you buy it?
Considering that the above-outlined features are the ones that really set it apart from its predecessor, if you already own an Apple Watch Series 6 then upgrading isn't really worth it. Considering that only 10% of global iPhone uses own an Apple Watch I believe that Apple wants to entice that 90% to also get a new Apple Watch rather than its current users to upgrade. And along those lines, the answer is a big "yes". If you already own an iPhone - let's face it an Apple Watch really isn't a stand-alone device - and have been thinking about getting yourself an Apple Watch the new Watch Series 7 is a great choice. 
The new Apple Watch Series 7 pricing starts at £369. The Apple Watch SE at £249 is also a very good option if you want to save a few pounds but still have a great watch. Now if you are working within a budget you can still go for an Apple Watch Series 3 for just £179. 
So in conclusion, if you are new to Apple Watch or you've got a Series 5 or lower Apple Watch then do go for the new Watch Series 7. However, if you got yourself a Watch Series 6 then you can certainly hold off from upgrading for at least another year or so - unless you want the latest and the greatest.
---