Apple WWDC 2022 a complete round-up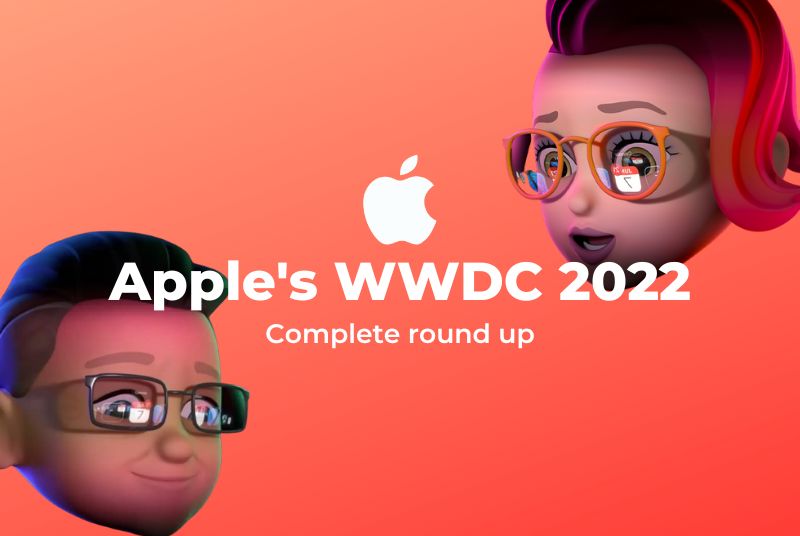 Apple's WWDC 2022 has been one heck of an event. There have been some back-to-back announcements starting with the iOS 16, WatchOS 9, iPasOS 16, and macOS Ventura. There were also new hardware releases, the new M2 processor and the redesigned MacBook air 2022 housing the M2 processor. 
There is a lot to cover as we highlight each of Apple's announcements to find out if it's worth your time. 
iOS 16
As with most WWDC announcements, iOS got the most love, and some interesting features have been introduced in iOS 16. Here is a rundown of some of the most notable ones. 
Lock Screen: The new lock screen got a complete overhaul. iOS has long been trailing behind android in terms of lock screen customisation, but it's all going to change in iOS 16. You can now include third-party widgets for a glance notification. The colour and font of the clock can now be customised with a new cool depth effect. Notifications will now "roll in" from the bottom of the screen, while a "Live Activities" API will let developers update notifications in real-time. 
iMessage: Not specific to iOS but iMessage also got an update. You'll be able to edit or "unsend" recent messages in iMessage or mark a thread as unread.
LiveText: Another useful, especially for students and travelers, is the Live Text, which will be able to translate and replace text in photos that it recognises, making it easier to comprehend things like a menu in a language you don't understand.
Shared Library: ​​You may now create a shared library with your family, and you can choose whether a photo is saved to the shared library or to your personal library when you take it.
Apple Map: There are some interesting changes for those who use the Apple map. This year, "France, Switzerland, New Zealand, Belgium, Israel, Liechtenstein, Luxembourg, Monaco, Palestinian Territories, Saudi Arabia, and the Netherlands" will get Apple's major Maps to revamp. It's also receiving better support for multi stop routes.
Apple Pay Later: Another feature not specific to iOS but can be beneficial for all is Apple Pay Later. It allows you to divide an Apple Pay purchase into four equal instalments with no interest, and it will operate everywhere Apple Pay is accepted. 
Apple CarPlay: Apple is also overhauling CarPlay, with the goal of taking over your vehicle's complete instrument cluster. It'll support things like speedometers, gasoline gauges, and air conditioning controls, among other things, but depending on what the car manufacturer allows. More information will be available "late next year," according to Apple.
iPadOS
Much of iOS and iPadOS share the same features. But there are few specifics that would be more beneficial in iPadOS. Here are a few of them.
Stage Manage: "Stage Manager," a new desktop-style window management tool for iPadOS, will allow you to run multiple windowed/overlapping programs on-screen at the same time.
Weather app: It's uncanny, but iPadOS just recently added a default weather app. It works great with a high level of detail that allows you to keep track of the weather effortlessly.
Apple Watch 9
Fitness app: For watchOS 9, Apple emphasised a lot on the fitness side of things. Even people without an Apple Watch will be able to use the Fitness app on iOS, allowing them to close those rings. The fitness app will now detect the type of exercise you are doing and auto-pause when done, taking away the steps to constantly think about turning the feature on and off.
Vertical oscillation ("how much you move up and down when running"), stride length, and ground contact time are among the new running parameters that Apple Watch will be able to detect.
Banner notifications: The new "banner" alerts keep you informed without taking up the entire screen.
New Watch Face: Apple also introduced new watch faces, Astronomy, Lunar, "Playtime," and "Metropolitan".
Sleep Tracking: The heart-rate monitor and accelerometer will be used to assess how much time you spend in four distinct sleep stages (Awake/REM/Core/Deep). This will give you in-depth data on your sleep pattern and help you monitor your sleep better. 
A-fib history: Apple Watch can track your "A-fib history" to assist doctors in monitoring cardiac arrhythmia and determining if therapy is effective.
macOS Ventura 
Stage Manager: The previously stated "Stage Manager" is also coming to macOS and is billed as a method to focus on one or two programs at a time. You may "group" running programs; tapping into a group minimises other apps while bringing the selected group to the foreground.
Spotlight: Spotlight is receiving a makeover, with the ability to bring rich results into a new scrolling interface and the ability to do things quickly, like previewing a file without having to open it.
Mail: Compared to Google, the default mail app in macOS was lagging behind. But with macOS Ventura, Apple did make some grounds and introduced an undo send feature, and scheduled send and timed reminders are now also available in the Mail app. Mail's search is becoming smarter, fixing errors automatically and understanding how to look for synonyms.
Safari: Safari will soon be able to log in to websites and applications using "passkeys" instead of passwords, a system developed in collaboration with Google and Microsoft that allows you to register using biometrics (such as fingerprint sensors or face recognition) without having to use text-based passwords. 
Continuity Camera: Because your iPhone's camera is almost always superior to the one in your laptop, Apple is allowing you to utilise it for video chats on macOS. Clamping your iPhone to your laptop may appear odd, but the quality gain is likely worth it for essential calls. There's also a "desk view" function that takes advantage of the iPhone's wide-angle lens and some sophisticated picture editing to record what you're doing at your desk in a simulated above perspective.
M2 Processor
With the release of its proprietary M1 processor, Apple shook up the market, combining outrageous speed with insane power efficiency - it's really quick, yet your laptop's battery will still last all day.
Now it's back with its successor, the M2 processor. Apple claims that the M2 CPU is 8% quicker than the M1 and that the GPU is 35% faster.
New MacBooks
Macbook Air 2022 with M2: Apple completely redesigned the Macbook air, which now houses the newer M2 processor and a boxier design. It also comes with Magsafe, a larger 13.6-inch notch display and a quick charge feature. It starts at $1,199, shipping "next month." 
MacBook Pro 2022: The MacBook Pro is updated to the newer M2 processor, but the design remains the same. 
---