Is The New Apple Watch Leather Link Strap Worth it? - A Complete Review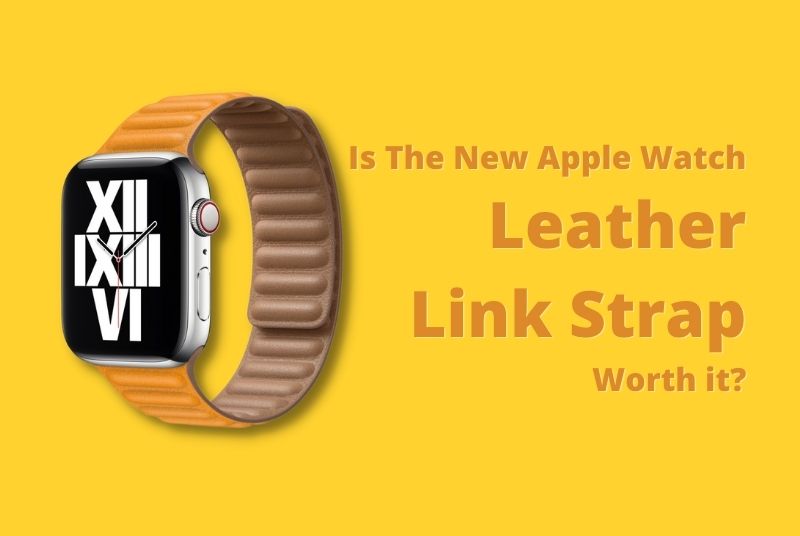 The Leather Link Strap is Apple's newest premium Apple Watch strap, and it's a terrific choice for people who want a unique and luxurious strap but do not want to spend a fortune. The watch strap is secured with magnets and covered in genuine leather to give it a classic look that many other Apple watch strap misses out on. But, like all products, the apple watch leather strap has its pros and cons, so let's find out if it's worth your money.
Leather Link Design
Compared to the regular Leather Loop, the new Leather Link is a new form of strap for Apple with a distinctive two-part structure. It also comes in Baltic blue and Saddle brown, in addition to the yellow California Poppy and conventional black, all of which look majestic. 
Two pieces of leather are placed between numerous magnets on each side of the strap. The strap's long side wraps around the smaller side to keep it in place on your wrist. The watch strap also felt secured, and it never came off during my time with the Apple band, and it is unlikely that the belt will come off during normal everyday usage.
The Leather Link strap is available in two sizes: 40mm and 44mm, and it fits all generations of Apple Watches, including earlier 38mm and 42mm or the new 41 mm and 45mm models.
Leather Link fit and comfort
The leather link strap also has a soft touch feel, which makes it comfortable, to wear all day. The materials used in the strap also allow air to pass through, allowing your skin underneath the strap to stay cool.
The Leather Link band comes in two sizes, small/medium and medium/large. Unlike solo loop, you do not need to measure your wrist size before getting the strap, as the dimensions are flexible. If you have a relatively small wrist, the small/medium will be just fine, as that's the one I used when doing this review.
The band is quite comfy regardless of the size. If you have the Milanese loop or even the Sports Band, they get cold to touch. The leather band is warmer to wear, which is ideal as we approach the colder months here in the UK. 
If you are like me and want to use Apple Watch sleep monitoring feature, the Leather Link is an excellent band to wear in bed. It's soft and relaxing on your wrist, even if you sleep with your hand or arm under your head.
Overall, the band has been one of the most comfortable I have seen. It has subtle flexibility and can be fine-tuned to fit precisely where you need it. Because there is no buckle, resting your wrist on a hard surface while wearing it, such as in a typing posture, is highly comfortable.
Pros and cons of apple watch leather link strap
Let's now look at some of the pros and cons of the leather strap.
Pros
Premium look and feel: The all-new Apple watch leather strap can have a premium feel and can be used on any occasion. The strap will cover you from an important business meeting to a casual outing with friends. It is also easily swappable without much effort, thus allowing you to interchange between other straps effortlessly.
Held by magnets and creates no thick buckle: With the introduction of sleep tracking in iOS 14, it became an essential factor to wear the watch wristband for an extensive period of time. Thankfully, the leather link strap is held together by magnets, creates no thick buckle, and does not act as a distraction while sleeping.
Colour options: There are four colour options, and all of them look pleasant to the eye. Yellow California Poppy and traditional black are my favourites, but you will also like the matt finish of Baltic blue and Saddle brown as well.
Cons
Expensive: Starting at £100, the new apple watch leather strap is not cheap, and when you factor in how beautiful each of the colours are, it is easy to spend £300 to £400 on watch straps alone. 
Few Colour options: Currently, Apple is offering just four Colour options; it would be great to have a few other options.
Should you buy the Leather Link band?
It is hard to find any significant flaws in the new leather link watch strap apart from the price, if I am not nitpicking. The watch is beautiful, with a precise finish that makes it a pleasure to wear. But the asking price can be a bit on the higher side. But thankfully, several third-party sellers offer the same look and feel of the leather link strap at an affordable price. You can even get a broader range of colour options if you opt to get the strap from ospekastraps. The price starts at just £50 but currently, they are on sale at a reduced price of just £29. It is an absolute bargain at this price and is highly recommended for anyone looking for a premium leather strap. 
Other leather link strap alternatives?
Apart from the leather link straps, apple also has several other leather straps, which include leather loop and leather belt options. While both of them are perfectly fine, personally, I prefer the newer link strap as it gives a sense of uniqueness that the older straps miss out on. 
Final words 
Finally, I would like to reiterate that a watch strap is a fashion statement, and it will vary from person to person. Not everyone may like the design, and that's fine. If you want to check other apple watch strap options, click here. But the point I am trying to make is if you do like the design, you will love the look and feel of the strap and won't be disappointed.
For more Apple Watch Strap reviews, click here, and I will see you on the next one.
---