M2 MacBook Air vs. M1: Is the £250 difference worth it?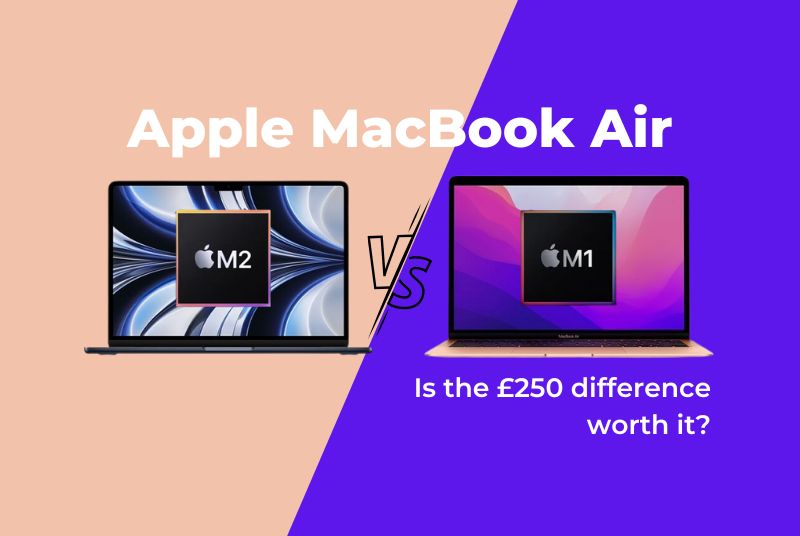 Apple's entry-level Macbook air has always been a popular option, especially for its low price and thin and light form factor. So it was no surprise that the Macbook air M1 released in 2020 would go on to break several sales records and ship over 7.4 million units. However, Apple recently released its M1 Macbook air's successor with a newly redesigned look, a powerful M2 processor, and a notch display. But the added functionality saw the price of the M2 MacBook air's base variant increase by £250, and it is currently sold at £1249. However, Apple is still selling the base M1 MacBook air at £999, which is still a compiling option for most people. 
So, should you spend £1249 to get the new M2 MacBook air? Or should you save £250 and get the £999 Macbook air? Let's compare them side by side to find out which is the better deal. 
M2 MacBook Air vs. M1: Design
The MacBook Air M2's design changes from the tapered wedge look of the 2020 and earlier models to more of a blocky slab, more like the 14-inch and 16-inch MacBook Pro laptops from late 2021. This makes the M2 MacBook air look very similar to the pro line ups which some people may prefer while others (me included) will not.  
The Macbook air M2 also didn't receive any new ports, so no love if you wanted an SD card slot and an HDMI port. However, it does come with the new MagSafe charging port allowing you to use both the USB-C Thunderbolt ports when charging your device. 
In terms of height and weight, both the M1 and M2 MacBook airs are identical with a very slight difference which is negligible. 
Overall, the M2 MacBook air comes with a new boxier design, and the MagSafe also adds utility, but is it worth upgrading for the design only? It solely depends on personal preference. 
M2 MacBook Air vs. M1: Display
There are some noticeable improvements in the display section on the new M2 MacBook air. It is larger, brighter and has superior display technology compared to the M1 MacBook air. 
Here is a side-by-side comparison:
| | | |
| --- | --- | --- |
| | Macbook Air M1 | Macbook Air M2 |
| Size  | 13.3 inch  | 13.6 inch  |
| Brightness  | 400 nits | 500 nits |
| Display Tech | Retina display | Liquid Retina display |
So on paper, the M2 MacBook air has a better specification. However, specs can be deceiving. Let me explain why!!!
The improvements in the M2 Macbook air are hardly noticeable to the naked eye; say, for example, you will only notice the 0.3-inch size difference if you compare the devices side by side. Also, the slightly higher brightness and the superior display technology hardly improve your viewing experience.
But as you may already know, the more significant difference between the devices is the dreaded notch. Some hate it while others think they can live with it, and whether you will get the new M2 MacBook air, or not will largely depend on which side you are in. 
M2 MacBook Air vs. M1: Performance 
The M2 processor, on average, scores 20% higher on Geekbench 5 and Cinebench R23, which is not surprising given the generation gap between their releases. M2 MacBook air also comes with faster ram and overall has a better specification when compared with the M1 MacBook air. However, the M1 processor itself is a beast, and for someone working with basic software with light gaming and video editing, the M1 silicon itself is more than enough. But the headroom offered in the M2 processor is definitely with the price. 
Although, the M2 processor is made on the same architecture and often runs hotter than the M1 processor. And as both M1 and M2 MacBooks come with fanless designs, heat dissipation is an issue in both. Click here to see the full comparison between M1 and M2 processor. 
M2 MacBook Air vs. M1: key features 
The M2 Macbook air comes with an array of other features that improve the device's overall experience. Here are some of the main features which we think really make a difference.
Faster charging: M2 MacBook air comes with fast charging capabilities which Apple claims to take your battery from 0 to 50% in under 30 minutes. In our testing, it took 32 minutes which is significantly faster when compared with M1 MacBooks. 
Speaker: M2 has a slightly better speaker with better mids than the M1 MacBook. Although not explicitly mentioned, the speaker arrangement also changed, so the sound seems different compared to M1 MacBooks. 
Battery: Apple claims a slight increase in battery life in the newer MacBooks; however, we did not find much difference, given how good M1 MacBooks are in the first place. 
M1 vs. M2 MacBook Air: Our recommendation
The M2 MacBook air is a significant improvement over its predecessor. It offers better performance, a more modern design, an improved display, faster charging and small but notable under-the-hood improvements like a speaker and webcam. So if you are in the market and looking for a primary device, spending £250 more and getting the M2 MacBook air makes more sense. 
However, if you hate the notch or have a strict budget and under no circumstance can you spend the extra 250 pounds, the M1 MacBook pro will still be a solid option. Let us know which model you like the most in the comments below. 
---