The Best Apple Watch Series 6 Strap in 2022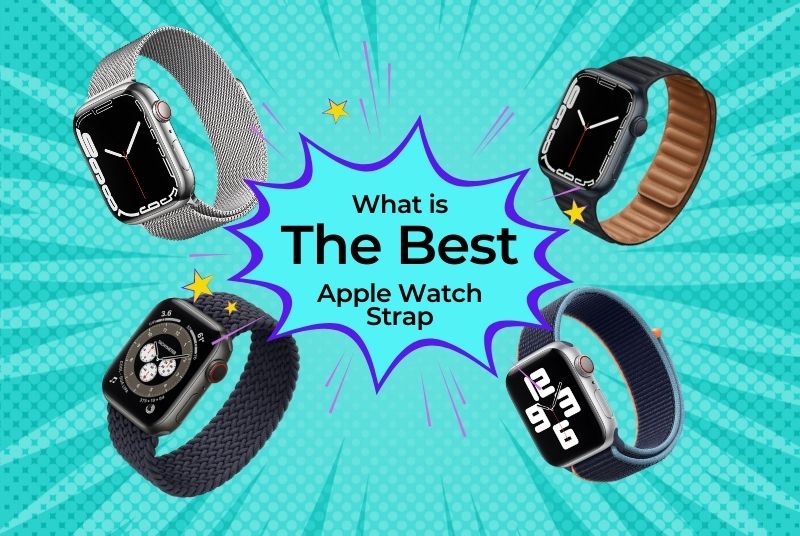 Finding the best Apple Watch strap can be a difficult task, as there are almost an infinite amount of options at this moment, with hundreds of great alternatives to choose from.  
The watch strap comes in various materials, prices, and unique styles, with some designed for sports while others for casual use or formal events. So narrowing down the type of Apple Watch strap you want can help, but even then, the possibilities are nearly endless.
While looking for the best watch strap, you should consider both the style and longevity, so it's a good value for money. 
But thankfully, one thing you do not need to worry about is which apple watch you are using. Apple made it easy to interchange its watch straps between models. You can either pick a 40mm or the larger 44mm variant. All apple watches, new or old, will fit either one of these straps. So it does not matter if you are looking for the best apple watch series 6 strap or for the latest series 7; both watches will support the recommendations in the list below.
First on our list is Apple's newest offing, the Solo Loop, which was designed to be an everyday strap that can be used in almost all situations. With a clean design and comfortable to use for an extended period. It's made from liquid silicone rubber and has a unique flexible design that you can slide on your wrist. It comes in a variety of colours and is sweat and water-proof. 
This makes it an excellent choice for almost every occasion, so if you just want to buy one Apple Watch band, the Apple Solo Loop is the way to go. It's also simple to select one that complements your style because they come in various colours.
The only downside is that you have to be sure about the size of your wrist, as there is no way to adjust the solo loop once you make the purchase. So, if you have an uncommon wrist size, the solo loop may not be the right one for you. 
The Apple Braided Solo Loop has the same elastic construction as the Apple Solo Loop, but it's composed of 16,000 recycled polyester yarn filaments woven around ultra-thin silicone threads. It looks elegant and feels wonderfully soft to the touch.
It's sweat and water-resistant, not suitable for swimming, so don't wear it in the pool, but it looks excellent for regular use. While the Apple Braided Solo Loop is comfortable and fashionable, it is pretty pricey, especially considering the materials used in the strap are not the most high end and it is not suitable for swimming.
The Apple Sport Loop incorporates a hook-and-loop fastening that allows you to loosen it if you need a little extra room on your wrist. It has a double-layer nylon weave that looks attractive while offering enough cushioning to let air to escape.
The Sports Loop is also the lightest of the bunch, so it won't distract you while exercising. But the biggest downside with the Apple sports loop is the materials used made it unsuitable to go for a swim. So, the Apple Sport Loop should work very well for any dry land activity, and while you probably shouldn't soak it, you can safely sweat on it. 
The leather link band is constructed with handmade Roux Granada leather from France, so you can be sure it will look great on your wrist. 
It also has flexible moulded magnets that softly bend to wrap around your wrist and provide a secure yet comfortable fit. It's subtle, so there's no need to worry about a huge buckle while you are wearing it, making it perfect to wear during your sleep. 
A leather link strap is an expensive watch strap starting at £100, so it may not be the best idea to go for a swim with the leather strap on your wrist.
The Gold Milanese Loop is a tad hefty, but it looks gorgeous. Its smooth stainless-steel mesh, woven using sophisticated Italian equipment, looks wonderful and should feel excellent on your wrist.
You may adjust it to your heart's content to achieve the ideal fit for your wrist because it's entirely magnetic. It also has a unique finish because of the materials used. 
Milanese Loop is a high-end strap offered by Apple, so expect nothing less than a high-quality finish that you can use for a long time. However, it is not ideal for exercising, primarily because of the strap's weight and overall look and feel. Milanese Loop comes in two colours, gold and graphite shades, and you can choose the one that best suits your need.
How much does the Apple Watch strap cost?
Apple puts a hefty price tag on its watch straps and makes it quite expensive to own several watch straps to cover all occasions. Prices usually start from £49 and can go all the way to over £1200 for limited edition watch straps. 
Now when you factor in that you may need to buy several of these straps to keep your collection up to date, the price of owning an Apple Watch quickly rises.
But thankfully, several third-party online stores offer discounts on the straps. Currently, the £100 straps are on sale at ospekastraps for just £29, making it an absolute bargain. 
Finally, if you are a fan of the Apple Watch and want to improve your collection, do check our website for the best deals.
---