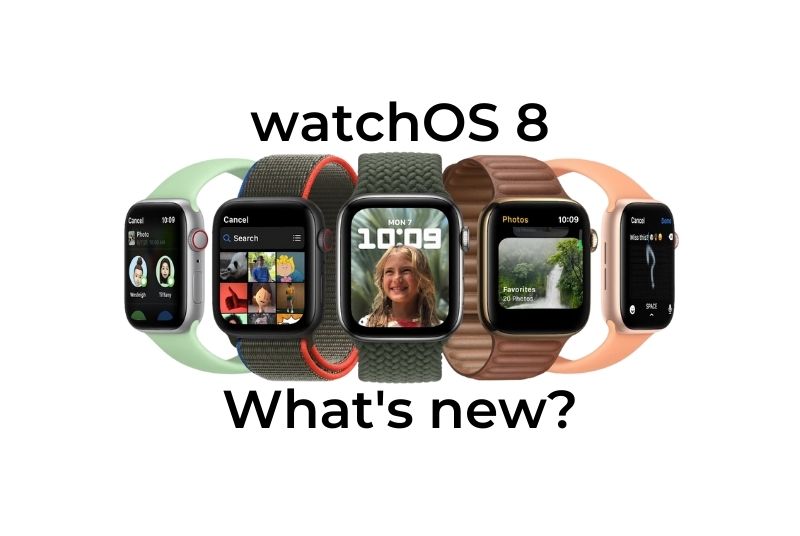 Since Apple released the developers and the public beta versions of the watchOS 8 earlier this year, let's have a quick look and see what's new with this iteration of the watchOS.

Let's start with the very good news. The supported devices for the watchOS 8 is the same as the watchOS 7. So if you have an Apple Watch Series 3 or newer, you'll have support for your device. However, some of the features may be limited depending on the generation of your Apple Watch but you will be able to install it. The beta version we tested came at around 1.2 GB to install on the Series 6 Apple Watch but the installation size can vary depending on the version you are coming from. Overall the installation took a while to install and now it's working so let's jump right into it.

One quick side note: If you want to try out the new watchOS 8 for yourself make sure to also download and install the IOS 15 beta on your linked iPhone, otherwise, it won't work.
Portrait mode watch face
The first thing we wanted to check out was the new portrait mode watch face on the watchOS 8. So when you into the watch app and in the face gallery you will see at the very top "New in watchOS" called portraits. Tapping that you can choose the portrait mode photos that you would like to see on your Apple Watch. In the app, you will also see that you can change the actual style of the clock face itself and add any complications like the date or even things like your activity rings, battery level and heart rate.

It uses segmentation data to actually work out the foreground and the background of the subject in the photo so that when you move the digital crown your subject will kind of pop in and out of the frame and you'll see that the time is kind of hidden behind the subject giving it a nice effect. Also a really cool feature for those of us who like to fidget with the digital crown during the day.

Now we noticed that this effect is different depending on the kind of portrait mode photo that we used. We found that this effect best works with portrait photos with the subject with a bit of headroom. And so far it hasn't worked that well with pets. These are some small details but it sure is a nice new look for your watch face.
Photos app
The photos app has also been completely redesigned on watchOS 8. So now you'll be able to do things like share photos through messages or mail easily. When you tap on the share icon on the bottom right-hand corner of a photo you'd like to share you will see the messages and mail options pop up. Now it will also populate photos with memories and featured photos and sync that automatically to the watch.
New messaging tools
With watchOS 8 we are also getting some cool new messaging tools and some changes to the messaging app itself. So when you go to compose a message on your Apple Watch now you use the three tools to be able to send a message all from the same place. That's scribble, use emojis and dictate your messages. You'll also notice that when you make a mistake and you want to change that word, you can actually select that word and use the crown to go through a list of suggested words to change that word. Pretty neat tool especially with the limited screen real estate we usually get with an Apple Watch. Love gifs? Now you can also send gifs right from your Apple Watch with watchOS 8.
Assistive touch
Ready to blow your mind? A new feature available with the watchOS 8 is assistive touch which gives you the ability to control the watch without actually touching the screen. This new feature can be turned on by going into settings and then accessibility. After turning it on you can use hand gestures and movement in your fingers and arms to control the watch. Pretty nifty I'd say.

For example, when you pinch with your thumb and your index finger it'll scroll forward through the menus and the double pinch scroll backwards. A clench helps you select a highlighted option and a double clench brings up the action menu. Pretty wild. Of course as with everything we imagine this won't be 100% accurate, however, during our testing it sure worked as advertised. This feature would be amazing for athletes, chefs or anyone who's working with their hands and really don't want to touch the screen.
New workout modes
With watchOS 8 we are treated with two new workout modes - pilates and tai chi. The breath app is now known as the mindfulness app. This has a new icon and a bit of a new look as well. There are two modes in the mindfulness app - the breath which is probably what you are familiar with coming from watchOS 7 and the reflect app which is a bit like your personal life coach. The reflect app has this mesmerizing animation and gives you a minute to reflect and focus on the values that matter most to you.

When you finish a session it will give you a mindfulness minutes rating and will also show up in the actual health app itself. It will also show your average heart rate during the session.
Focus app
This is actually an iOS 15 feature that does carry over to the watchOS 8 and it syncs automatically. So you'll see that when you are in iOS 15, in the focus tab it now holds do not disturb, sleep and also two other sessions personal and work that you can choose.

Setting up one of these profiles basically allows you to set up the parameters where you don't want to be disturbed so it will allow certain people's notifications to come through and block anything else. The same goes for app notifications. You can really personalise this to fit your need during that focus time. So every time you select a focus mode on the phone it will automatically sync with your Apple Watch and the same settings will apply there as well.
New apps
There are a couple of new apps that come with the watchOS 8. First up is your contact app. You'll see that it's now finally on the watch. There's also now a split between the find my options you might remember previously you would just see find my as the app but now it's divided into devices, items and people. So if you wanted to find your iPhone that's also signed in to the same Apple ID you'll be able to do that right from your Apple Watch. And find items is specifically for things like the Apple AirTag. Finally, you'll be able to take advantage of the U1 chip on the Apple Watch Series 6 and the U2 chip hopefully coming with the new Apple Watch Series 7.

If you wear your Apple Watch to sleep then you'll be happy to know that now it'll also track your respiration rates during sleep.

Some smart features will also be available with the new watchOS 8 which utilizes the U1 chip on the series 6 for example that would support digital car keys. You'll be able to do things like lock and unlock your vehicle remotely and maybe even start the engine or pop the trunk. You'd also be able to use the wallet app to scan your driver's licence or ID and go through things like airports security checkpoints for example. Unfortunately, we can't test these yet since they won't be available until towards the end of 2021. But nevertheless, these are great features we are looking forward to seeing.
Always-on display
If you are coming from a series 5 or 6 Apple watch you are no stranger to the always-on display. With watchOS 8 now you have access to more apps that will be able to use this feature such as alarms, maps or supported third-party apps.
So there you have it. Everything you should know and more on the new watchOS 8. What is your favourite feature and would this make you want to purchase a new Apple Watch? Let us know in the comments below and as always thank you for reading.
Author | Nuwan Fonseka
---