8 Apple Watch Features You Need to Know About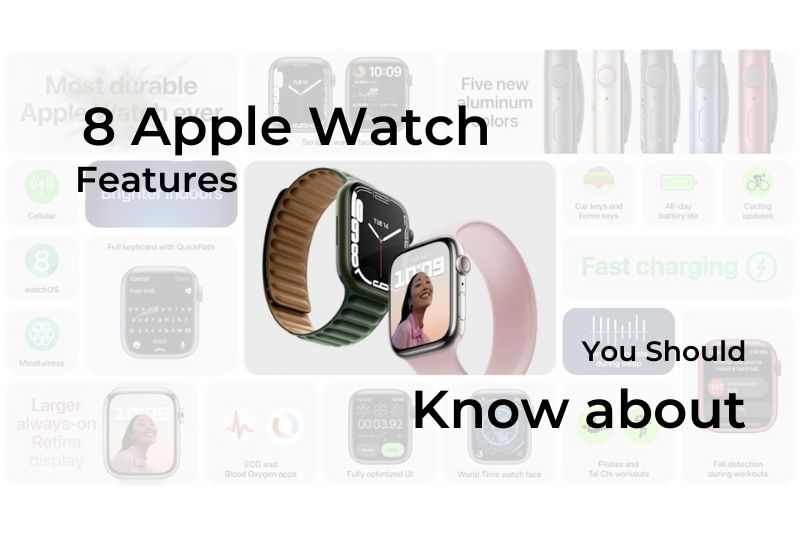 Apple has truly been revamping its watchOS with new features and useful updates in the last couple of years. With every new Apple watch being released in the market, Apple makes it increasingly difficult for an iPhone user to give Apple Watch a pass. On top of that, Apple has sprinkled in some useful features that many do not know. From cool party tricks to something truly revolutionary, here are 8 apple features everyone should know about.
Cover your Apple Watch to mute instantly 
Have you ever been in a meeting where you forgot to mute your phone? It can be annoying when your phone starts ringing in such a situation, and a quick way to mute your call is using your Apple watch. Cover the Watch with your palm, and boom, the call is on mute. This helpful trick will save you from many embarrassing situations, and to turn this on, head to Settings > Sounds & Haptics on your watch, then make sure "Cover to Mute" is enabled.
Feel the time 
This function is for you if you've ever been in a scenario where checking the time would be inappropriate, but you really can't wait any longer without knowing the time. To enable this feature, tap on the display once, and hold the screen with two fingers. Your Watch will then use haptics to inform you of the time; by default, you'll get a long tap every 10 hours, followed by a small tap every hour. After that, you'll get a long tap every 10 minutes and a little tap every minute. I know it sounds a bit confusing to read, but give it a try and you can figure out the time without much hassle.
Force reset your Apple Watch
Apple is known for creating some of the most optimized software in the industry, but that does not mean it's all perfect. You may encounter minor bugs from day to day use and face instances when your Apple Watch simply refuses to respond and requires you to force reset your Watch. Just press and hold the Digital Crown and Side button together until your Apple Watch turns black. Hold these buttons down until the Apple logo appears, then release them and wait for the Watch to restart.
Take a screenshot on the apple watch
You can snap a screenshot of the display on your Apple Watch just as you can on your iPhone. To do so, simultaneously push and release the Digital Crown and side button. You can then find the screenshot in your photo app like you would in your iPhone. Make sure the function is enabled under Settings > General > Screenshots, under Enable Screenshots on your Watch. 
Rise to activate Siri 
Siri can be activated several ways in an Apple Watch, with the most common one being pressing on the digital crown for a second or two. But a nifty little trick to activate Siri is by simply raising your Watch close to your mouth and start speaking. This is a cool party trick and feels like using an iron man suit. You do not even have to say "hey Siri" for this feature to work, as the apple watch has sensors that understand when you pick your wrist up. 
You have a flashlight on your Apple Watch
You may be sketching your head, but your Apple watch actually has three flashlights: a static white light, a flickering white light, and a red light. You can find them from the shortcut menu when you scroll up your watch face. The flashlight starts out dim but give it a couple of seconds, and then it will switch to full brightness.
You may force the flashlight to brighten up immediately by tapping it; the brightness will rapidly increase to 100%. You may even flick your wrist to signal to the watch that you're attempting to shine the flashlight at something, resulting in the brightness going up instantly.
Unlock your iPhone while wearing a mask
After Apple ditched the fingerprint sensor from the iPhone, it became so annoying to unlock your phone when using a face mask. You would have to type in your passcode every time, which is a significant inconvenience. To help with that, Apple has a useful feature that allows you to unlock your iPhone or even your mac using your Apple Watch.
The best part is that you do not have to do anything to enable this feature. The Watch detects itself when it's around your iPhone or MacBook and automatically unlocks it without any action. This is a great feature that is only possible because of the seamless integration of the Apple ecosystem.
Use the Theater mode 
The Apple Watch has a habit of turning on at inappropriate moments. You don't want your Apple Watch to distract you visually or vocally when playing a game or watching a movie.
Swipe up from the Control Center and hit the Theater Mode button. Unless you tap the screen or push the Digital Crown, your Watch will not light up. It also enables Silent Mode, which disables audible notifications but allows you to feel your wrist tap to see if anything is waiting for you.
Bonus Tip 
This one is more of a tip rather than a feature. Apple Watches come in different shapes and sizes and can vary dramatically in price. If you have your eyes on the more expensive of the Apple Watches, you are paying extra for the fancy straps Apple includes with the watch in most instances. Sure they look classy and do give you that formal look many desires, but you may have to pay upwards of £539 for a fancy Hermes edition watch strap. Instead of spending such large amounts, you can pick third party watch straps that look identical to the real one at a fraction of the price. You can pick a leather link strap for under £50, whereas getting it from Apple will cost you over £150. You can pick 3 to 4 straps, which will cover you every occasion. 
---