Apple Watch Series 7 - What We Know!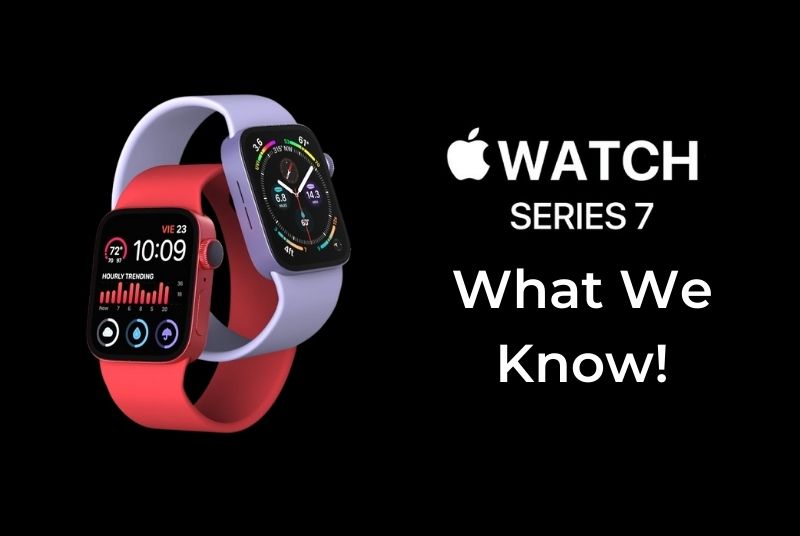 We are just a few weeks away from the rumoured Apple Keynote event where the new Apple Watch Series 7 would be unveiled ahead of the new iPhone 13 which we will see in October. So it's not too long now before we can proudly sport a new Apple Watch. But what can we expect to see? Here's what we've gathered from the almighty internet.

It looks like we will be finally getting a full redesign for this series of the Apple Watch, however, there's some that point to no redesign this year - which would be disappointing but not too far from expected when we look at Apple's previous track record.

Back in 2018, Apple finally gave the Apple Watch a full redesign with the series 4, giving it a much larger display with rounded corners just like the iPhone X in 2017. The Apple Watch Series 4 also came with an almost Iron Man looking rear sensor array as well. But thereafter the Apple Watch Series updates have been quite a bit disappointing.

Here's what I mean. In 2019, the Apple Watch Series 5 simply got a boost in storage and added an always-on display, and that was it. So many of us stuck to the Apple Watch Series 4. Then last year, Apple revealed the Watch Series 6 with two standout features: the new colour options - red and blue - and the new blood oxygen sensor with the ECG capabilities. Let's not also ignore the small updates such as the faster S6 chip, the brighter always-on display, the always-on altimeter for elevation tracking and the new U1 Ultra-Wideband (UWB) chip. Ok, the U1 chip wasn't so much of an update since we still can't fully use the new U1 chip, which would hopefully change with the new watchOS8.

In reality, none of the new updates changed that much for regular users. Here's the big question. Now that we are expecting the all-new Apple Watch Series 7 in less than a month, will Apple finally redesign the Apple Watch or hold it off for another year?
Let's Talk About Redesign
All evidence points to a new redesign for the new Apple Watch Series 7. We saw renders of a redesign floating around the internet as early as May this year. And the renders looked fantastic, matching up to the rumoured iPhone 13 design language.

The renders even included a new layout for the speakers featuring two thin and long stripes on the side. And there's great news for Apple Watch Straps as well. Looking at the CAD files of the leaked design for the Apple Watch Series 7, it seems like that the Apple Watch Straps will fully support this new Apple Watch design.

And we've also heard rumours from various sources that Apple is considering the release of a new Apple Watch model with a rugged casing, aimed at athletes - which would be perfect to launch alongside the redesigned Apple Watch.

There's some bad news if you loved the titanium body of the Apple Watch Series 6. We have seen recent reports showing that the titanium Apple Watch Series 6 models are now entirely unavailable, which would only make sense if Apple is planning to redesign the body so that those titanium casings wouldn't be able to be used for the Series 7. Or Apple could be completely ditching the titanium option - we'll just have to wait and see.
Possible New Screen and other specs
Screen first! Rumours suggest that Apple has been working on a new screen redesign for the upcoming Apple Watch Series 7 with a flatter display and an updated screen technology using a new lamination technique to get the display closer to the cover glass. Additionally, this also points to an old report from the Economic Daily back in 2019, claiming that Apple will switch from OLED display technology on its Apple Watches to MicroLED displays as soon as 2020, which obviously didn't happen. So will it finally happen in 2021 with the introduction of the new lamination technology?

Now for other specs, we can expect the new Apple Watch Series 7 to get a new S7 chip as well. The S7 chip is built on a 5nm architecture and would be the first 5nm Apple Watch chip, compared to the S7 chip which was built on a 7nm architecture. This will certainly improve the already snappy performance of the Apple Watch and will lead to a big jump in battery performance. With the improved battery performance, we are expecting to see with the new S7 chip and the MicroLED display, Apple has room to include much-anticipated features like 5G connectivity.

So alongside the above-mentioned features, we should also expect the new Apple Watch Series 7 to come with Bluetooth 5.2, 2GB of RAM instead of 1GB, and WiFi 6E to match up with the iPhone 13 series because it is more efficient and helps to save battery life. There's also the possibility that we might be getting a new U2 Ultra-Wideband radio with the new Apple Watch Series 7. With the expected updates coming along with the new watchOS8 this actually makes a lot of sense.
Final words!
With the new redesign, new screen, new chip and possible 5G connectivity the Apple Watch Series 7 is turning out to be a compelling choice for 2021. Especially for those of you who are still on an Apple Watch Series 4 or 5 or even thinking about getting a new Apple Watch then this seems like the perfect time to do so.

However, if you own an Apple Watch Series 6 are these changes reason enough for an upgrade? For the regular Apple Watch user, the answer could be a simple, "no". We will soon find out if Apple actually meets these rumours or would they surprise us again. Tell us about your thoughts on the new Apple Watch Series 7. Would you buy one?
Author | Nuwan Fonseka
---