Can you use an apple watch without an iPhone?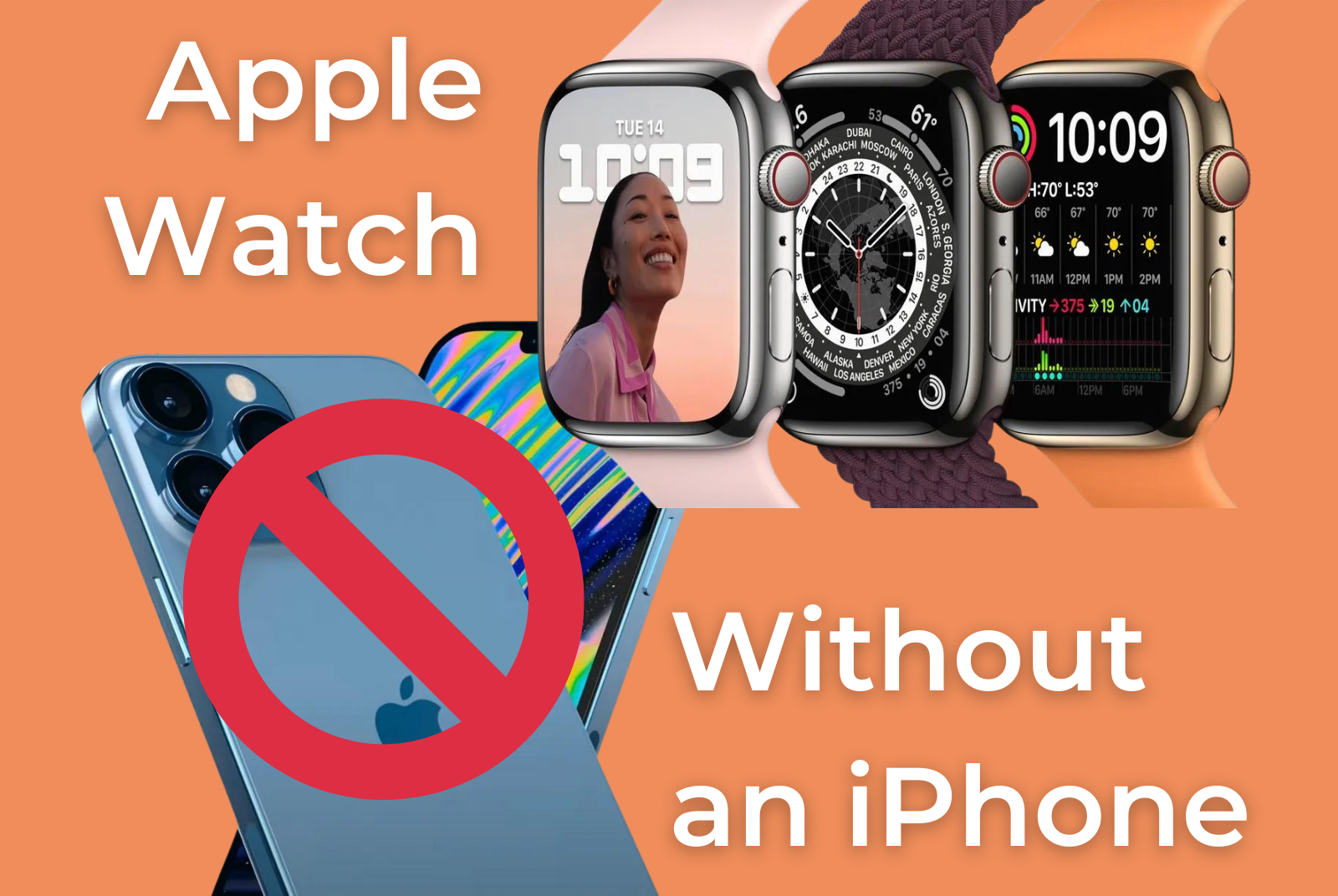 The Apple Watch has quickly evolved into one of the most comprehensive experiences few companies can offer. Ever since its launch in 2015, Apple has included different features, including GPS, LTE, and weatherproofing, to establish itself as a dominant player in the industry. This has enticed many users to try out the Apple Watch, many of whom do not want to carry around an iPhone. So, is there any way to use your Apple Watch without an iPhone? Let's find out in our full review.
Can you use an Apple Watch without an iPhone?
To set up an Apple Watch for the first time, you'll need an iPhone. There is no way around it. The iPhone's Watch software handles most of the heavy lifting, and without it, you're left with a lovely bracelet that's much too expensive. Although with watch OS7 Apple introduced a family setup which enables an apple watch to be set up with a friend's iPhone. 
So, No, an Apple watch can not be used without first setting it up with an iPhone. 
Things you can do with an untether apple watch after the initial setup?
If you have an apple watch with a cellular version and are willing to get an appropriate cell phone plan, there is actually a lot you can do with a standalone apple watch. Here are some of the most interesting features that the apple watch enables without the need for an iPhone:
Make and receive phone calls
.
Let's start with the most obvious one. If you have an Apple Watch Series 3 or later, you can use the Watch as an extension of your iPhone, thanks to its LTE capabilities. You can make and receive calls directly on your Watch, even if your iPhone is charging at home. 
There are additional charges associated with using the eSIM; click here to see details of costs in the UK. 
Use Apple Pay
Forgot your wallet at home? No problem, after you've set up Apple Pay on your Apple Watch, you won't need to bring your iPhone to the store to pay for products. Double-press the Side button and place the Watch over the contactless sensor to complete the transaction. Although Apple Pay is not yet available in all parts of the world, you will find it in most major cities, including London. 
Use Maps
Using the Apple Maps app without an iPhone nearby is another beneficial function accessible on an Apple Watch. Again, an Apple Watch Series 3 or later with a current eSIM contract is required. With that in place, you can go wherever you want without carrying around an expensive and bulky iPhone in your pocket.
Listen to music
You can store lots of songs on the Apple Watch itself, all of which you can listen to without the need for an iPhone. The apple watch has you covered if you want to listen to some thumping tunes while jogging or just enjoy listening to a podcast or album while pottering around in the yard. But it is important to note that the Apple Watch has no headphone jack, so you must carry your AirPods or other compatible Bluetooth headphones. 
Tracking your activity levels
If you are a fitness freak and want to monitor your exercise, carrying a bulky phone when running can be a severe inconvenience. Thankfully Apple Watch is designed to record all your activities, which can be uploaded to your health app once your Watch is connected to the internet. Offline fitness tracking works in both cellular and GPS versions, so you do not have to shell out extra cash to use this feature. 
Fall detection
If you have an Apple Watch Series 4 or later, you can utilise fall detection. When you have a hard hit, the safety function detects it. After that, you may swipe to let the Watch know you're fine. If you don't swipe, the app will contact 911 on your behalf. Fall detection is an excellent tool for elderly adults who may be experiencing health problems. While your watch can detect hard falls on its own, it will still require a Wi-Fi, cellular, or iPhone connection to contact emergency services. 
Noise detection
Your Apple Watch can detect how noisy your surroundings are using the Noise app. The app will alert you if the noise level in your environment is dangerous to your hearing. Noise takes advantage of the built-in microphone on your Apple Watch and doesn't require an internet connection or a phone nearby.
Siri 
Your personal assistant, Siri, can be summoned without having to carry an iPhone. You can use almost all the functionality that Siri offers in an iPhone or Mac but will need an active internet connection to use most of its features. 
Can you use an Apple Watch with an Android phone?
No, you can not use an apple watch with an android phone.
Marques Brownlee , a leading YouTuber, commented on his video that an Apple Watch is as valuable as a paperweight for android users. So unless you have other Apple devices, owning an apple watch makes no sense at all. 
Can I connect my Apple Watch to Wi-Fi without an iPhone?
You can connect your Apple Watch to a Wi-Fi network without having your iPhone nearby. Simply choose "Wi-Fi" from the Watch's settings menu. Type in the password for the network you wish to connect to.
With your Apple Watch linked to Wi-Fi, you can make calls, send texts, listen to music and podcasts, check the weather and stock market, utilise the Walkie-Talkie feature, and do a lot more – all without having to take your phone out of your pocket.
Bottom Line 
Apple Watch has matured over the years and currently offers many valuable features without the need to be tattered to your phone. But many of the features do require an active internet connection, so it is an essential factor to consider when choosing between an iPhone cellular and GPS only versions. Click here to read the complete comparison between cellular vs GPS apple watch. 
---