Your Apple Watch as a Wallet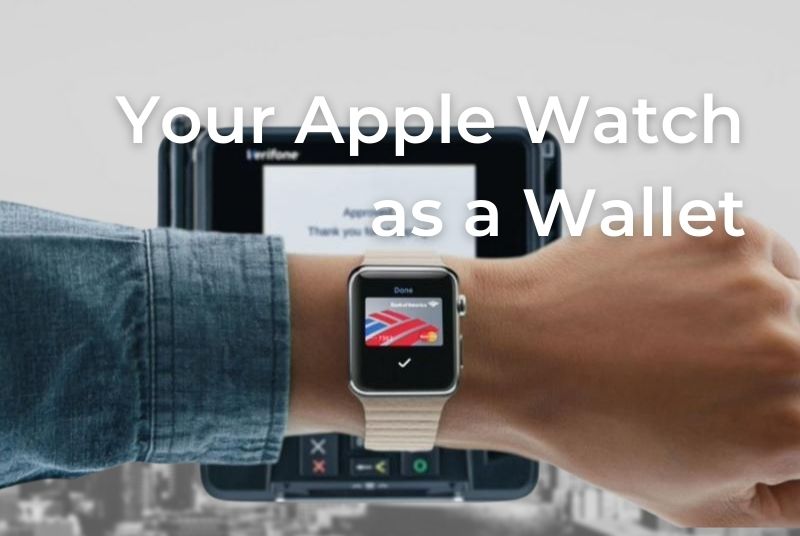 Have you ever left your wallet at home? It can be quite an embarrassing situation, but thankfully Apple's got your back. You can now turn your Apple watch into a wallet and pay for everyday things right from your wrist. 
In the U.K, contactless payments have been implemented throughout the country, with the technology being enabled by default on most bank cards. By just placing your card on a scanner, businesses allow payments up to £100 in a single transaction. There is no need for a signature or a PIN; touch and go. In London, you may even go by bus and train using Apple Pay and last an entire day without carrying any physical cash. So is your Apple Watch ready to replace your wallet? Let's find out in our full review.
What is Apple Pay?
Apple Pay is a contactless mobile payment method and digital wallet service launched by Apple Inc. in 2014. Users can utilize near-field communication (NFC) to pay for items and services at the point of sale, whether in person via iOS applications or remotely via the Internet.
Apple Pay is marketed as a replacement for credit and debit cards, including chip and PIN cards and magnetic stripe cards. Apple Pay is currently supported by most major credit and debit cards. Apple Watch takes this tech one step further, and instead of reaching out to your phone, you can simply tap your watch to make payments. 
Set up Apple Pay on Apple Watch
The first step of turning your watch into a wallet is to add your bank credentials to your apple watch. You can do it in a few simple and easy steps. 
On your iPhone, open the Apple Watch app.


Tap My Watch, then scroll all the way down and tap on Wallet & Apple Pay.



If you already have a card saved, you will see it here; you can tap on it to connect. If not, you can press on Add Card and put all the credentials, including your CVV number. 
And that's it; with these simple steps, your Apple Watch is now connected to your bank account, allowing you to make payments right from your watch.
How to use Apple Pay on Apple Watch
Once you have put in all the necessary card details, you are ready to make a transaction. For this, head over to any restaurant, convenience store, or subway in the U.K and see if they accept contactless payments. They are most likely to accept contactless payments as over 91% of all businesses in the country are currently accepting it, and the figure is increasing every day.
To initiate a payment:
Double-click the side button of your apple watch 

Scroll down and select your card. (if you have multiple cards registered) 

Hold your Apple Watch a few millimetres away from the contactless card reader, with the display facing towards the reader.
In just about 3-4 seconds, you will get haptic feedback confirming your payment went through. It is that simple to use.
Is Apple Pay safe?
Now that we have seen how easy and convenient it is to use Apple Pay, this begs the question of how safe the platform really is? 
According to Apple, using Apple Pay instead of actual credit, debit, or prepaid cards is much safer. For purchases on the Apple Watch, you'll need to use Face ID, Touch ID, or your passcode. Your card number and identity aren't shared with retailers, and Apple doesn't save your real card numbers on your device or on its computers either. Meaning even in case of a data breach, your details are safe. 
In an attempt to ensure complete privacy, Apple promises that your Apple Watch will not communicate your actual card number to retailers when you pay in shops. When you pay for something online, the merchant only gets the information you provide them to complete your transaction, like your name, email address, and billing and delivery addresses.
Furthermore, Apple does not save transaction information that can be linked to you when you pay with a debit or credit card. When you use Apple Pay, your information is solely kept for the purposes of troubleshooting, fraud prevention, and regulatory compliance making Apple the safest platform out there.
Problems associated with Apple Pay 
There is no doubt that contactless payments are the future and Apple Watch and Apple Pay are here to facilitate it. But like all things in life, Apple Pay also has its caveat. Using Apple Pay can be a bit of friction as you have to ask the store whether they accept Apple Pay, and for stores that are not yet familiar with people paying from their watch, you can run into some embarrassing situations.
Well, of course, this is an issue Apple can't fix right away, but it can improve the software side of things to make payments more seamless. One problem we faced when completing a transaction is that you have no history of the payment on your watch after the haptic feedback. So if you have an Apple watch cellular edition and choose to go phoneless, this can be a significant inconvenience. There have been multiple instances we paid twice because we were not sure it registered the first time.
Another disadvantage we faced when using it while travelling in London is the inability to finish journeys using our Apple Watch, which you started on your iPhone. This means that if we create a trip on the Watch, we must end it on the Watch – the same is true for the iPhone. This is primarily due to the safe and independent nature of Apple Pay's card setup, but we would like to see some improved communication between the two devices, so it makes the process seamless.
Bottom-line
Overall in 2022, it is easier than ever to replace your wallet altogether and use apple pay to turn your watch into an actual wallet. Of course, there is still a long way to go, but with the speed at which the transition is going, we can safely say our dream of a cashless society is closer than ever. For more such articles on tech and the Apple Watch in general, visit ospekastraps website, your one-stop solution for all Apple accessories. 
---