Which Apple Watch Should You Buy in 2022?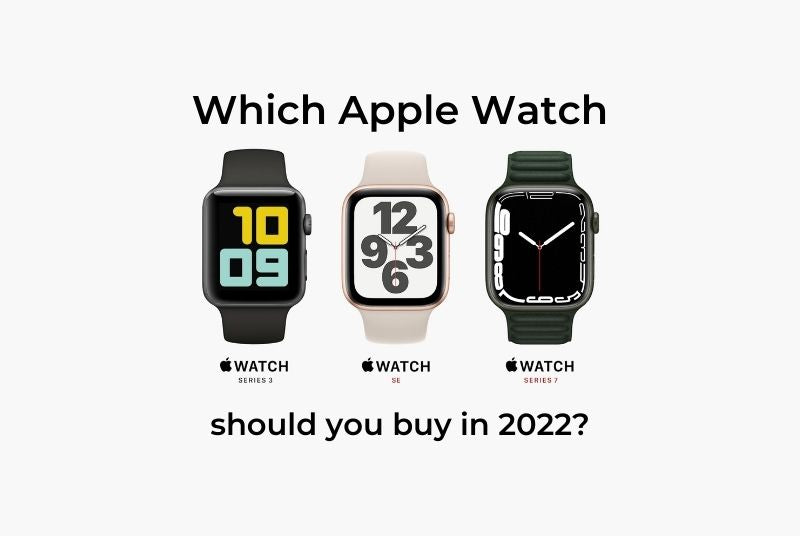 An apple watch gives you the freedom to manage your life without being tethered to your phone. You can do all the essentials like receiving a phone call, getting directions, replying to a text, or even hire an Uber right from your apple watch without ever needing to touch your phone. 
But, the question remains, which Apple Watch to buy in 2022? Apple itself does not make the process any easier by offering up to 3 models and many of its versions on their website. So with a dilemma of opinions, which apple watch model should you buy? Let's find out in this ultimate buying guide.
Apple Watch with Best value for money
Cheap and Apple Watch may be difficult to use in the same line, but if you are on a budget and considering the best value for money option, there are three main contenders. 
Considering the price, the most affordable apple watch you can currently buy directly from Apple is the apple watch series 3. It was launched back in 2017 alongside iPhone 8, and it is hard to comprehend how even after five years, they are continuing with it. But despite an older design, the watch performs admirably well with a fast UI, and with the latest update to watch OS 8, there is not much you can not do with the series 3 watch. It also has a capable chipset that even performs better than many of its Samsung Galaxy counterparts. 
For £179 it is not the best value for money option, but if you are on a tight budget, Apple Watch Series 3 is a great pick for you. All you miss out on is slightly better battery life, sensors to detect sudden falls, and some screen real estate as the bezel on Apple Watch Series 3 is slightly more visible compared to series 4 and others.  
Launched in 2021, the Apple Watch SE looks and feels much more modern when compared to Apple Watch Series 3. It has a much, faster processor and promises updates till 2025. It is £70 more expensive than the series 3, but you get a more modern design with great battery life.
Although getting the SE means you will not get all the bells and whistles of the latest Apple Watch Series 7, but for the price we do not mind missing out of few features. One small complaint we have towards Apple Watch SE, though, is the display; even after being released five years later than series 3, they both have the same display tech under the hood, and outdoor visibility could be better.
Apple watch Series 4 (£230 - £270)
Series 4 apple watch is another great option if you are looking for a budget apple watch. Although it is not directly available from Apple, you can pick a refurbished one or from a 3rd party reseller for as low as £230. You get a great choice of materials (stainless option) and a modern design. But we think series four is beginning to show its age, and the small price gap can not justify picking it against the Apple Watch SE.
Overall winner: Apple Watch SE (2021)
Best Apple watch in 2022
If you are willing to have all the bells and whistles that the latest Apple Watch has to offer and do not mind spending some extra cash here is a list for you.
Apple Watch Series 7 (£369) 

Equipped with the latest processor and sensors to detect irregularities of your heart and measure the blood oxygen levels, the Apple watch series 7 is the best of everything Apple has to offer. Although Apple Watch Series 7 is an small upgrade of the already great Apple Watch Series 6; it still has some major features that make it worth considering.

With the series 7 you get an updated always-on display, better battery life with fast charging enabled, and an array of health features to help monitor your health. If you are in the market and want the latest Apple Watch, Apple Watch Series 7 is the one for you.
Apple Watch Series 7 Hermès Edition (£1309)
Taking the Apple Watch Series 7 up a notch is the most expensive Apple watch money can buy; the Hermes edition. They are made with impeccable quality and consist of a stainless steel frame. The watch also feels a lot lighter and the watch strap attached feels high quality. There are no apparent downsides to it apart from the astronomical pricing. You have to shell out more than $1300 for one watch, and at that price, there are many other options on the market. But over the years apple has transformed itself into a luxury tech brand for its aesthetics and premium quality, you can not go wrong with the Hermès edition.
Apple Watch Series 7 Nike Edition (£369)
While Hermès Edition appeals to some, the Nike edition is made for the cool younger generation. Nike edition comes with limited edition straps with a punch-hole design that looks dope. The materials used are the same as that of the regular Apple watch series 7, so you are paying only for the Nike logo and the limited Apple watch bands. A trick if you are craving a Nike edition but do not have the budget is to buy a high-quality 3rd party strap identical to the real one, only at a fraction of the price. 
If you are in the market for the best apple watch out there, it won't be a bad idea to keep your eyes open for apple watch series 8. With rumours suggesting a complete revamp on design and many new features being added, the apple watch series eight is expected to be a revolution rather than a year-on-year upgrade. We are likely to see a falter design aesthetics in line with the latest iPhone 13 series that has flat edges. 
Overall winner: Apple Watch Series 7 Hermès Edition 
Other Factors to Consider
Do you need a cellular apple watch? All Apple Watches come with either a WIFI only or cellular versions. The cellular versions are usually £90 more expensive and will add £6 to your monthly phone bills. We at Ospeka recommend you to add the extra and get a cellular version as it allows you to use it as a stand alone device and still have 90% of all the features. You can keep your phone at home and go for a walk, receive a phone call, pay for your coffee, all from your watch.
Is a bigger apple watch better? No, size does not always matter, at least when it comes to the apple watch. Some of you may have a smaller wrist and may prefer a smaller watch.
Bottom-line 
If we have to choose an overall best Apple Watch you should buy in 2022 we'd have to go with the Apple Watch SE. It gives you the best value for money and comes with the most important features that you've come to love on an Apple Watch.
Apple watches have been a staple in fashion, and people around the world admire the apple watch for that. One of the best ways to customise the Apple watch to fit your unique tastes is the change the apple watch strap. Now you can purchase them from the Apple website but at a high price tag. However, if you really want to have the same look and feel, at a fraction of the price of the original one, consider buying premium aftermarket watch straps.
---