Best Apple Watch for women in 2022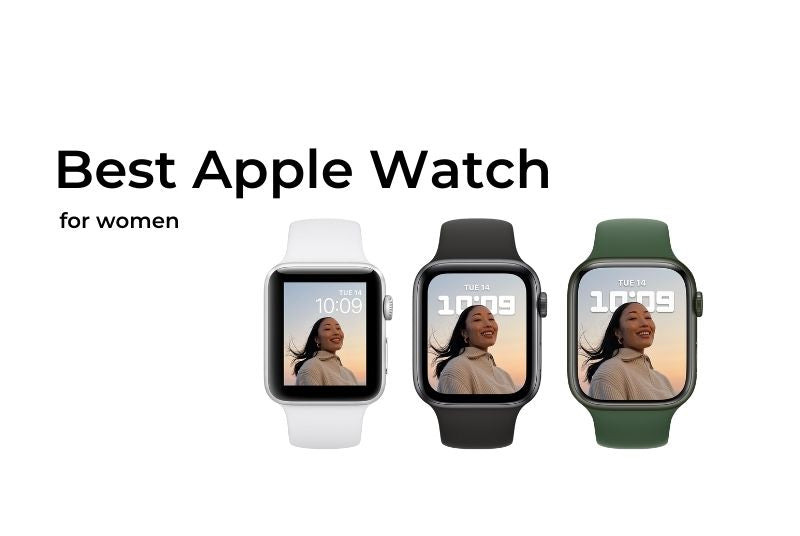 Apple Watch is a unisex device meaning both men and women can wear it. But there are obviously some differences in buying guide for different sexes. This article will discuss the factors to consider when choosing an Apple Watch for women.
Form factor 
Not all Apple Watches comes at the same size. Apple usually sell watches in two different sizes, 40mm and 44mm. So the first thing to consider is which one will fit your hand. We recommend trying out the different sizes in person before ordering them. You can check them in apple store, or an easier alternative can be trying out one from your friend or colleague.
Note that the larger Apple Watch comes with a larger display that makes it easier to reply to text and a slightly bigger battery to help you get through the day. If these features are useful to you, pick the large 44mm one.
Click here for a more comprehensive review of the apple watch 40mm and 44mm.
Materials 
Across different models, Apple uses different materials when it comes to its watches. The most common of them is aluminium which is found in all major Apple Watch variants, including Apple Watch Series 3, SE and series 7. It is the least expensive of all the models. Apple also has a more premium option in the form of stainless steel and titanium, each with its distinct advantages and disadvantages. 
Aluminium is a lighter material and does not have the same heft as other, more premium options. They also tend to scratch easily when compared to other materials like the titanium watch. 
One advantage aluminium has over the competition is its matt finish, which makes fingerprints and scratches less visible.
Stainless steel and titanium are both higher quality materials that are only found in the Apple Watch Series 7. They are significantly heavier than the aluminium models and are less prone to breaking. But one downside is because of the glossy finish, stainless steel and titanium watches attract more fingerprints, and scratches are more visible on them. 
Which one is best for you depends on your personal preference; you can learn more about materials in our full review here.
Colour 
The latest apple watch series 7 (aluminium) comes with five colour options: midnight, starlight, green, blue, and red. Each of these watches can be further customized with personalized watch straps to give it a unique look and feel. 
The premium stainless steel also comes with three colour options: silver, graphite, and gold. 
Starting at the top of the list, midnight is the most subdued colour. It's darker than space grey and is reminiscent of a matte black. Some people may find it a bit boring, but midnight appears to be a good alternative for anyone who wants their watch to be sleek and elegant.
The most neutral hue is starlight, which replaces the old silver style. Starlight has a somewhat tan appearance as compared to silver. It doesn't do anything to attract attention, which is precisely what some people want from an Apple Watch. 
If you want a bit of flair, the red and blue Apple Watch can also be a great option. They are unique and easy to get noticed if that is what you are into. Overall, there are more choices than ever when it comes to choosing the right colour for your apple watch, and you can pick anyone you like, as they are all of the highest quality.
GPS vs Cellular 
Now that you have selected the size, material and colour of your Apple Watch, it's time to select the technology you want under the hood. When it comes to network capabilities, the apple watch has two options, GPS only version and the GPS and Cellular version. They look identical on the outside has some clear differences on the inside. 
Cellular apple watch comes with e-sim capabilities, meaning you can make and receive calls, reply to a text, and even call an Uber all from your Apple Watch, without ever having to pick up your phone. Apple Watch cellular truly gives you the freedom to go places without carrying your phone. 
These features are not available for the GPS version, and you will have to carry your phone around you to get the same features.
The Cellular Apple Watch is definitely better, but they are more expensive, and you have to get a separate cellular package that will cost you on a monthly basis. 
So, is the price worth the extra features it provides? Click here to learn more on cellular Vs GPS.
Straps options  
Apple offers a ton of watch straps that can be customized and used for both men and women. You can buy them directly from the Apple website, starting from £49 all the way to £549. Sure, most of the straps are of premium quality but picking a few up to match your outfit can be quite expensive. A cheaper alternative will be to pick some third party straps which look and feel exactly the same as the real one but cost a fraction of the price. 
Picking a few of them will be a good idea as they can match any of your outfits. You can check ospekastraps for all the latest straps apple has to offer.
Bottom-line 
Apple Watches are not cheap by any means, so you have to be careful about which version you choose as, there are a ton of options. The first thing you have to make sure of is to choose the right size ( 40mm or 44mm). Next, you need to select your material (aluminium or stainless steel), and then you have to select the underlying tech inside your apple watch ( GPS only or Cellular). Once you answer all these questions, it will be easier to find the apple watch that best suits you needs.
---