iPhone 14 Pro vs. 14 Pro Max: Which one should you get?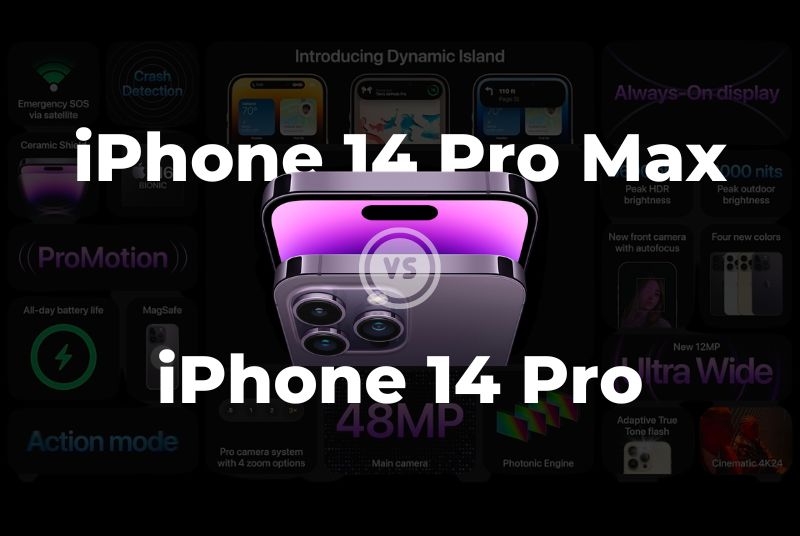 It's shaping up to be quite a good year for Apple, as both the iPhone 14 and 14 pro series are shaping yet another paradigm shift for the iPhone lineup. However, this year, Apple clearly differentiated their pro series iPhone from the regular iPhone 14 series and offered several cool features exclusive to the Pro version. You get a better all-around camera experience, a newer A16 processor, and a dynamic island that finally replaces the notch. 
But between the two Pro iPhones, the screen size is not the only difference. The larger iPhone pro max offers several incremental upgrades over the smaller iPhone pro, and in this post, we will compare them side by side to decide which model is best for you.
iPhone 14 Pro vs. 14 Pro Max: Display

The larger iPhone 14 pro max has a bigger display measuring 6.7 inches, which translates to a better user experience. The smaller iPhone 14 pro still houses a 6.1-inch display which, in all fairness, is more compact and plenty big for most people. However, under the hood, Apple uses identical display technology, so you can expect a fluid 120Hz Super Retina XDR ProMotion display capable of changing its refresh rate to as low as 1 Hz. You also get the new pill-shaped notch in the form of a Dynamic island. The displays in both the pro models are capable of hitting 2000 nits of peak brightness which is by far the best any display has to offer. 
Another interesting new feature is the always-on display, which lowers the refresh rate to 1Hz. It keeps the lock screen dimly lit at all times, showcasing your beautiful wallpaper, clock, and lock screen widgets that you can extensively customize thanks to the new iOS 16. Both the pro and pro max offer this feature. 
So, from a display standpoint, both are similar, and which one is better comes down to personal preference. The larger display is better for media consumption, while the smaller one is more compact and easier to manage. But both displays are best in class without a shadow of a doubt. 
iPhone 14 Pro vs. 14 Pro Max: Battery Life and Charging

The battery life is one area where the larger iPhone Pro Max phones have always pulled ahead. The smaller iPhone 14 Pro models have a 3200 mAh battery, while the larger iPhone Pro Max offers a 4232 mAh battery. However, the larger display needs more power, and in day-to-day usage, the difference between the models are around 2-3 hours. 
Officially, Apple says the iPhone 14 Pro lasts up to 23 hours in video playback, up to 20 hours in streamed video playback, and up to 75 hours in audio playback mode. In comparison, the iPhone 14 Pro Max scores up to 29 hours in video playback, up to 25 hours in streamed video playback, and up to 95 hours in audio playback.
In terms of charging speed, both the models support 20W wired charging and 15W wireless charging. However, in recent tests, it was found that the iPhone 14 Pro Max is actually capable of charging at 30W with the MacBook charger. But both phones are still bottlenecked by the slower lighting port.
So, if you want the best battery life in an iPhone capable of charging faster, you should consider the larger Apple iPhone 14 Pro Max model.
iPhone 14 Pro vs. 14 Pro Max: Performance
The Apple iPhone 14 Pro and Apple iPhone 14 Pro Max is powered by the new A16 processor made out of a 4 nm node. It is by far the most powerful mobile SOC (system on chip) on the market, and according to Apple, the competition on the Android side is three years behind. However, the claims need to be tested, and on benchmarks, we can confirm that, both the Apple iPhone 14 Pro and 14 Pro Max have perfectly capable chips with plenty of power at their disposal. 
The larger Apple iPhone 14 Pro Max has better thermal and slightly beats the iPhone 14 Pro in benchmark scores. But the difference is really insignificant, and there is no possible way to understand the difference in day-to-day usage. 
But in our testing, the Apple iPhone 14 Pro Max was slightly cooler under load; this may be due to the larger surface area, which is nice to have. 
So should you upgrade to Apple iPhone 14 Pro Max for better performance? Not necessarily, as both offer the same chip and perform equally well.
iPhone 14 Pro vs. 14 Pro Max: Camera
Apple made a substantial change on the camera and introduced the much-awaited 48MP sensor exclusive to the pro series. The iPhone 14 pro and 14 Pro Max models are equipped with the new sensors and perform identically in camera comparisons. Video also saw some improvements in the form of a new feature that lets you take a super steady video. However, despite the new sensors, Apple still does not let users to take 8K video, which is a bummer. 
The front camera also improved and introduced autofocus for the first time. The telephoto camera can now zoom 3X digitally and is a substantial improvement over its predecessor. But there is no significant change between the iPhone 14 pro and pro max.
iPhone 14 Pro vs 14 Pro Max: Summary and Final Verdict

Choosing between the iPhone 14 Pro and the iPhone 14 Pro Max all boils down to your size preferences and how much money you are willing to spend. The iPhone 14 Pro Max comes with larger display, better battery life, and a slight performance improvement over iPhone 14 Pro model. But it is safe to say Apple made some considerable progress this year, and no matter which model you choose, you will be more than happy with its improvements. 
---